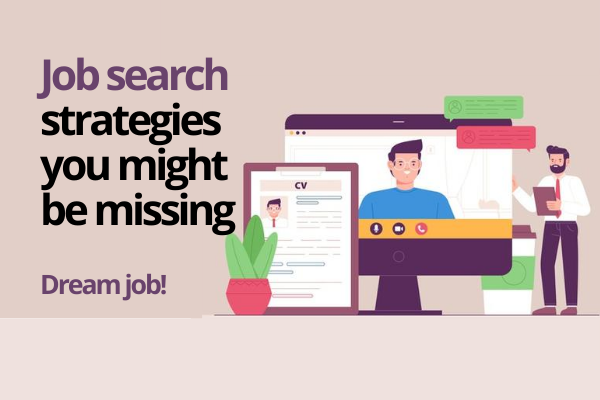 When checking out online job forums and researching about the companies who are hiring in your industry, you come across the coveted dream job. A job posting that is so perfectly aligned to what you are looking for to start your career that you can almost swear that it was made just for you
Everything about it seems perfect—a position with an industry-leading organisation who has a great reputation and culture, the job description that really matches with what you are looking to take on and ample scope for growth and success.
So, when you stumble across the dream job, you will be struck with the urge to frantically rush to apply for the job before it is too late. Your eagerness to apply can make the sort of mistakes that prevent the recruiter to take you seriously.
If you really want to land your dream job, then it's in your best interest to slow down, take a deep breath and make sure you don't overlook these 5 important job search strategies when applying for your dream job.
Review the posting before applying
When reading a great job post, don't overlook key details, which includes specific instructions for how to apply. One of the biggest rookie mistakes that you can make is by not complying with all the application instructions.
Although this might look like a human error, you can seriously ruin your chances of being taken into consideration for the job role. So, before taking any rush steps, read the job posting carefully more than once to make sure that you have all the necessary details down cold.
Re-review your job applications
Before sending your job resume and cover letter, take the time to slow down and confirm, a few times, that your job application materials are complete, relevant and error-free. An error-laden job application will destroy your candidature in front of the recruiter.
So, before it is too late, take into consideration your job resume and cover letter and ask your family members or friends to go through it once.
Tailor your job approach
Sending across a canned cover letter and resume for every job opening is not your best approach and the recruiter is going to notice. To increase your chances of getting the interview call, make sure you are personalising the resume for every job role you apply for.
This is the best way to showcase why you are the right candidate for the job role. Moreover, this is the best strategy for grabbing the attention of the recruiter and getting your foot in the door for job interviews.
Try to answer "Why are you the right candidate?" in your job application
For a single job opening, there are tons of qualified candidates and to make a mark you need to demonstrate why you are considered among the candidates. For that make sure your application material clearly shows your full potential and highlights your skills.
Moreover, make sure you mention why you are the perfect candidate to be reckoned with and taken seriously in your interview answers.
Mind your social media
The best approach towards your job search is being laser-focused on finding a dream job and getting your application and material right. But don't forget to make sure that your public social media doesn't have anything that might hurt your chances.
Nowadays, running social media footprints of potential candidates has become the industry norm. So, make sure your social media accounts are up to date and reflect positivity.
So, if you are hot on the job search trail and eager to start your career with your dream job, then make sure you take care of the 5 key things mentioned in this blog.