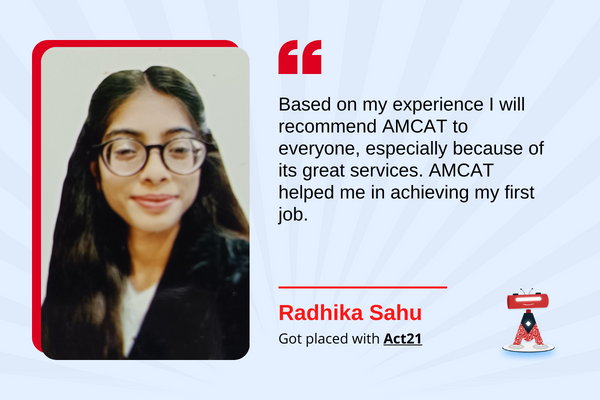 I'm glad as I decided to take AMCAT, with the help of which I was able to start my professional career in a satisfactory manner. I got a great job and started my career as a fresher, with an amazing opportunity. If you would like to know more about my smooth and successful story, please read.
What pulled you to take AMCAT above other possible options?
"AMCAT offers great services over other platforms in the market that's why I had opted for AMCAT, said Radhika."
What challenges did you face while searching for a job? Please provide more information.
Thankfully, I did not face any challenges during my job search journey, said Radhika."
Tell us about your job role and the company where you got placed.
"With the help of AMCAT I got placed in Act21 Software Private Limited as a Software Engineer Trainee with a package of 4.2 LPA, explained Radhika."
Will you tell others about AMCAT? Why do you think AMCAT is an ideal choice?
Yes, I'll definitely recommend AMCAT to everyone, especially to all the freshers. The reason behind the recommendation will be AMCAT's great services, concluded Radhika."
If you have any queries, feel free to get in touch with us.
We Wish You All The Best!