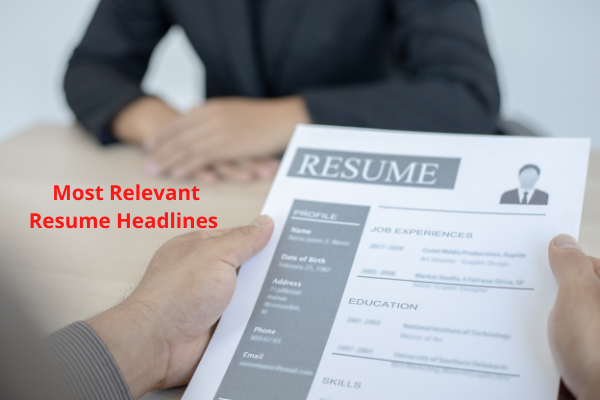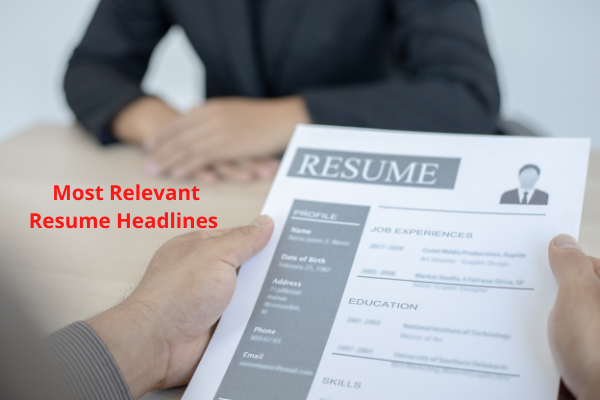 A resume headline or a resume title is a catchy brief that tells the interviewer who you are and highlights your value as an individual. Located right at the top of the resume, a resume headline for fresher is the first thing that the employer sees. As such it should be tempting enough to make them want to indulge in your resume further.
Since you only get a few seconds' window before the hiring manager moves on to other resumes, your resume headline should stand out and pitch you as the ideal candidate they are looking for.
It should talk about your work experience and skills. However, if you are a fresher with little (internship) or no work experience to back you up then you can highlight your personal attributes and let them do the talking.
In this article, we'll discuss and look at some resume headline examples and samples for how a resume headline for fresher should look like, depending upon the job profile you are applying for.
So, dig in and find the resume headline suitable for you.
Resume Headline For Fresher In IT Engineering
Goal oriented, determined and focused with a keen eye for details. Skilled in various programming languages including Java, Python and SQL.
Resume Headline For Fresher In Software Engineering
Extensive knowledge as a systems architect and software developer – analysis, development and management of complex software solutions.
Resume Headline For Fresher In Business Analytics
Business Analyst with internship experience in working with Investment Banking or Healthcare or IT or whatever your domain was.
Resume Headline For Fresher As Application Developer
Extensive knowledge of the working and dynamics of apps with hands-on experience in working with complex to come up with best solutions.
Resume Headline For Fresher In Software Development
Great with PHP, Java and other languages and the ability to work in a team to make the best of any situation.
Resume Headline For Fresher As Android Developer
Persistent, hardworking, team player with experience in higher level Android dev platforms and frameworks.
Resume Headline For Fresher In Graphic Designing
The knack to understand and identify the trending pattern and work in tight spaces and time frames effectively.
Resume Headline For Fresher As Fullstack Developer
In-depth knowledge of backend pages like Java, PHP, Python with the passion to learn and grow.
Resume Headline For Fresher As PHP Developer
Experience in developing high-end websites with the ability to communicate in PHP.
Resume Headline For Fresher In Content Writing
Ability to transform the mundane into magic and use the right keywords to express the right emotions.
Resume Headline For Fresher In SEO Analytics
Certified SEO Analyst with the knowledge to crack the code of the market.
Resume Headline For Fresher In Mechanical Engineering
Skilled in COSMOS with a great passion for all machine and machine learning. Learning the nitty-gritty of 3D printing.
Resume Headline For Fresher In Aeronautical Engineering
Curious of the dynamics between machine and man with an understanding of aerodynamics and thermodynamics.
While these were some of the common fields and their resume headlines for fresher, following are some of the new trend jobs which are slowly catching up, with their resume headline examples-
Resume Headline for Sound Engineer
Great interpersonal skills, team player, electronically adept and sound with an eye for details.
Resume Headline for Economist
Great with strategizing, impeccable mathematical and analytical skills, combined with keenness on details and understanding the HOWs and WHYs of things.
Resume Headline for Drone operator
Great communication skills backed with the ability to package and market ideas and plans. Hands-on mechanical skills with the zeal to tinker with new technologies.
Resume Headline for Food Critic
Strong verbal and written communication skills, critical yet creative mindset, knowledge of food and beverages and the social media.
Resume Headline for Shoe Designer
An eye for colors, balance and the aesthetic detail of things. Creative, quick-learner with the ability to come up with out of the box and unique ideas.
Resume Headline for Agricultural Analyst
An avid learner, have an extensive knowledge of all things related to agriculture, including agricultural equipments and technologies. Team player with a pleasant and understanding temperament.
So, here was our list of resume headlines or resume titles for freshers that you can copy or modify according to your requirements.
As always, AMCAT provides extensive support in making your resume in the best way possible through a range of fresher resume templates to choose from. Pick the template that fits your profile, and go ahead to take help from Resume Buddy to create the perfect resume for your new job application.