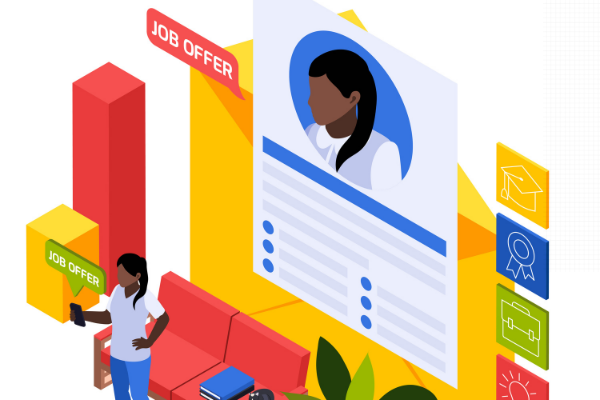 "Tell us about yourself"
This is one of the most-frequently asked questions during HR interviews.
The answer to these four words can make or break your future at the company you're interviewing. So, you definitely can't risk your employability for such a simple question, right?
As it may seem, this isn't the simplest question after all. Many job seekers, especially freshers, do not take this question seriously given how easy it seems to introduce them at anytime. But when you're asked to introduce yourself at your fresher job interview, it won't seem that easy-peasy.
You must always remember that self-introduction isn't your ordinary ice-breaker question thrown at you as a filler during an interview. It is your first opportunity to play your cards right and give out only the best information which the interviewer can use to format the rest of the interview.
So, given the relevance and importance of how to introduce yourself during a job interview, we will dwell deeper into the nitty-gritty to help you frame the right answer for yourself. This will be of great help in a fresher job interview.
Self Introduction for a fresher interview
Interviews can be freakish for all of us, more so when you're a fresher attending one. Whether you're still in the final semester of college or passed out, you will have to face a lot of job interviews where 'self-introduction' will seem like a lot to handle at the moment.
This question is often misinterpreted as a casual conversation-starter to break the ice but it really isn't as simple as 2+2=4.
When interviewers pop this question they hope to get insights into why you think you're suitable for this job. In other words, the question 'Please introduce yourself' actually means 'Why do you think you are suitable for this job'.
The interviewers read between the lines very carefully to understand your priorities, goals and lifestyle. This helps them get a better understanding of the candidate's aptitude and attitude towards working at their company.
In most job interviews for freshers, the first few minutes can be decisive when it comes to choosing the right candidate for the job role.
For freshers, the answer to this question helps candidates lay the foundation of the interview, basis which further questions are asked. Especially, if it's your first job interview you must spend some quality time framing the answer and setting the tone of the rest of the interview.
Read on to know how to introduce yourself during the fresher job interview in 3 minutes.
Talk about yourself, your name and where you come from. Ensure good body language and communication.
For fresher job interviews, you must talk about your educational qualifications and achievements. This information may be listed in your resume but you must talk about it to give a rounded and complete self-introduction.
A great tip for fresher interviews: Talk about your hobbies at length. This will enlighten the interviewer about your personality and give out more than what can be seen on the resume.
For your first job interview, give a little family background. Talk about your parents and siblings and what you admire about them. Tell them about who's your inspiration and why.Register for AMCAT | India's Leading Fresher's Assessment And Job Site (myamcat.com)
These tips for fresher interviews can help project you as a more zealous, focused and smart person who is ready to take on the role.
All this will add some character to your answer, the core of your response should be to focus on the key elements that make you a better fit for the job than any other candidate.
Do not get carried away while answering
Remember this isn't the right space for storytelling. But also don't summarize your resume point-to-point. In both case scenarios, your dream of a new-job can go down the drain.
Be it your first job interview or Nth, the right answer to this question will always include the skills, strengths and expertise that make you perfect-fit for the job. This answer should bring out why you should be hired and why you wish to be hired. Don't take too long to answer and don't answer for long because not every minute detail needs to be spoken out loud.
We hope now you know how to introduce yourself during the fresher interview. And, if you still feel under confident, take help from AMCATs MockAI tool to prepare in the best possible way for your job interview.