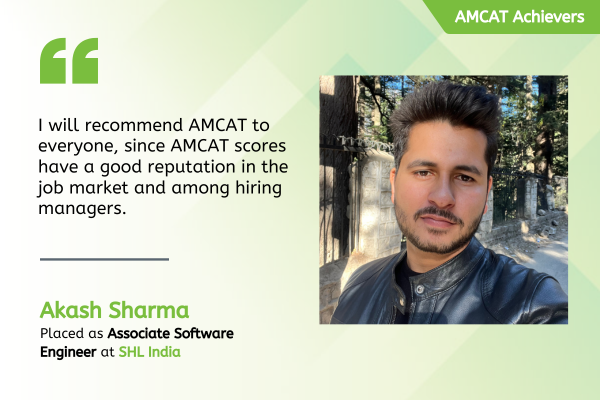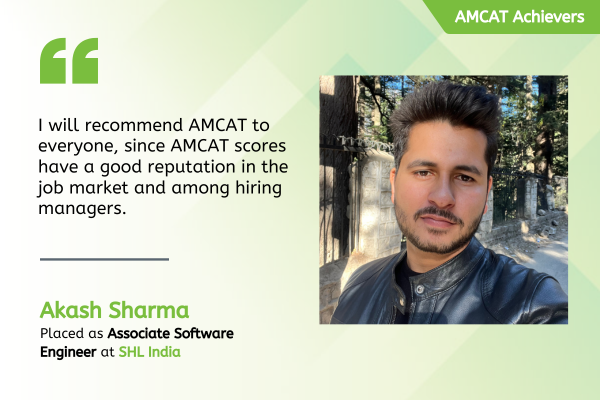 As a fresher, you need to explore and get the most appropriate career opportunities while entering the corporate world. Most of the candidates do not get shortlisted at initial stages, but AMCAT helps in accessing and improvising their core competencies. Since AMCAT's modules are very competitive, it helps in improving an individual's problem-solving skills.
Akash, why did you opt for AMCAT?
"I opted for AMCAT because AMCAT's modules are very competitive, thus increasing the individual's problem-solving skills. Also, AMCAT scores have a very good reputation in the market and among hiring managers, said Akash."
While looking for a job, did you face any difficulties? Please elaborate.
"Off-campus job hunting is very difficult these days as companies demand highly skilled and quick problem-solving skills. Before AMCAT, I also faced the same problem because my problem-solving skills were not that good or quick. Also, hiring managers prefer some reputed exam scores, which I did not have to stand out among others, Akash claimed."
Tell us about the job you got through AMCAT.
"I got three to four interview calls based on my AMCAT scores, which were very good. Hiring managers started approaching me after the result. I got hired in SHL, as an Associate Software Engineer, told Akash."
What role did the AMCAT feedback report play in the process?
"AMCAT helped me through their behavioural and aptitude modules. The aptitude questions are very well designed in such a way that they provide very good training through limited questions. AMCAT's behavioural questions are good too, said Akash."
Would you recommend AMCAT to others based on your placement? Why?
"Yes, I'll recommend AMCAT to others. AMCAT modules are good and competitive in the market, and AMCAT scores have a good reputation among companies and hiring managers, concluded Akash."
If you have any queries, feel free to get in touch with us.
We Wish You All The Best!