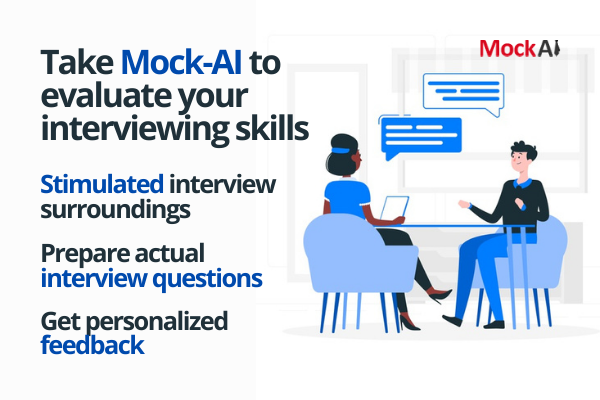 The very thought of appearing for your first job interview amid the global pandemic can give anyone jitters. After all, this will be your first encounter with the corporate world, and that can be anxious and overwhelming for many 2023 graduates.
However, job interviews are no rocket science and with the right tips, you can easily crack your dream job interview. Interview skills are some of the most important skills that every job seeker should be aware of.
So, to help you crack your first job interview, we have created this list of interview tips for freshers to help you prepare for fresher jobs in 2023.
Interview Environment
In order to successfully ace your job interview, you need to create an environment identical to the real job interview. Most likely you will be interviewed through one of the video-conferencing tools.
So, make sure you find a quiet corner in your home where you can conduct the job interview. You can take the help of Mock-AI which will mimic the actual interview environment and will accurately gauge your interviewing skills and reaction based on it.
Must Read: What Is an Interview and Steps of the Interview Process?
Ask Interview Questions
One of the best interview tips to crack the interview is to show the recruiter that you are the right candidate for the job is by answering all the recruiter's question with confidence and fluency. And, to do that, you need to prepare answers to common interview questions.
You can take the help of either your friends or family members to help you with your interview preparation. If you have opted for Mock-AI, then be ready to be asked a range of interview questions basis your domain and common HR questions that you can expect during the interview.
Body Language
The way you present yourself in front of the recruiter tells a lot about your personality. So, be mindful about the way you conduct yourself in front of the hiring manager. Whether you are going for a face-to-face job interview or a virtual job interview, make sure you dress well and professionally.
In addition to that, keep an eye-contact with the recruiter and smile politely. Before answering any tricky interview question, take a deep breath and slowly build-up your answer. If you want to get your body language professionally evaluated, then you can take the help of Mock-AI
Sharpen Your Interviewing Skills
Try to work upon the feedback that you received by your friends, family members or Mock-AI. Ask them about their suggestions for improvement and how and from where you can start working on your interviewing skills.
With Mock-AI, you will get a personalised feedback report to help you start working on your weaknesses. The detailed feedback covers the way you answer questions, your body language, voice modulation and more.
Conclusion
We hope these best interview tips for freshers will help you ace your interview rounds and move your job application to the next round. If you want to be better prepared to face the interviewer, then you can opt for Mock-AI and work on your interviewing skills by giving mock interviews at home.