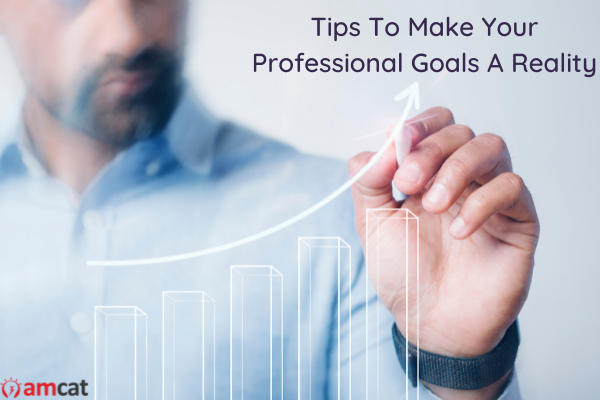 Anyone attempting to achieve a big goal will experience difficulties, which is natural. Any time you try to do something different, you will face rejection. You will face challenges not only from the outside world but also from within your own thinking. While talent and hard work are beneficial on the road to success, the most important skill is the ability to overcome the obstacles that you will face during the journey. To that end, here are the strategies for overcoming these obstacles and achieving your objectives. AMCAT can be your rescue partner and can help you in achieving your goal – of achieving your dream job.
Determine where you are now vs where you want to be
Take a piece of paper and find a quiet spot where you can think and contemplate. Consider what success in the workplace looks like. Perhaps you seek stability, education, advancement, or a raise. Maybe you'd desire greater respect and authority from your peer groups, coworkers, and colleagues. Alternatively, perhaps you want your ideas to be heard and acted on with zeal and excitement. Whatever your goal is, write it down.
Define your current situation
After you've defined and documented your career goals for the year, consider what it will take to close the gap. This will assist you in identifying the prerequisites for success.
Don't get distracted by the noise around you and do actions with a single-minded focus.  When you're working toward a goal, inertia is your worst adversary. Every day, you must take steps toward accomplishing your goal. Even if it's only 15 minutes of effort on certain days, the momentum is maintained. When it comes to accomplishing a large goal, a lot of the work is done in your head. Just keep going.
Reflect & Review
We frequently feel dumb when we pursue our dreams since there is no money in sight. Don't let that get in the way of your success! No one who has ever accomplished something significant by starting with a six-figure income. Every great achievement began with a thought – an unpaid thought. Then comes the belief in the concept, followed by hard work and eventual achievement. Believe in yourself and your concept and know that the time you put in today working towards your objective will pay off in the long run.
Set aside time each week to review your objectives. Examine your goals and the procedures necessary to attain them.
The very first thing you should do is believe in yourself, set a goal, and then work on achieving it. Nothing can stop you from achieving the same.