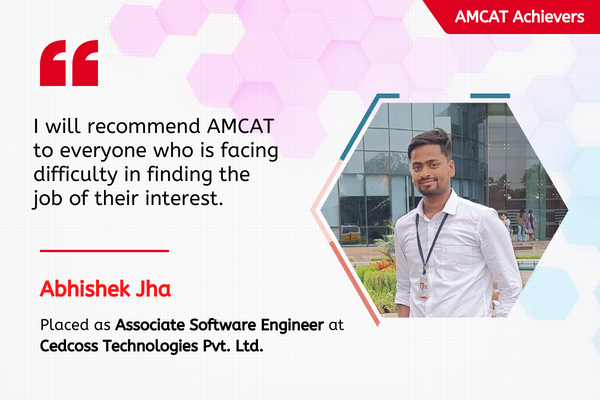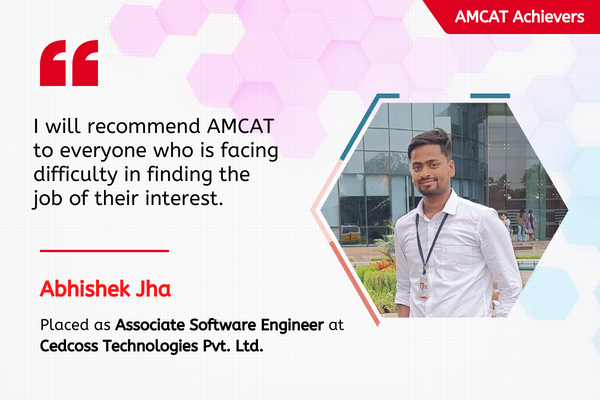 I'm happy that I chose to take AMCAT because it enabled me to successfully launch my professional career. I was given an incredible opportunity to start my career as a fresher and landed an amazing job opportunity. Please continue reading to learn more about my successful story.
What pulled you to take AMCAT above other possible options?
I chose AMCAT in order to get more placement opportunities", told Abhishek.
What challenges did you face while searching for a job? Please provide more information.
Yes! I faced difficulties while looking for a job, since I am a fresher so could not find a lot of opportunities as compared to experienced candidates. So, I took AMCAT and got a chance to appear in an interview of a company like Cedcoss Technologies Pvt. Ltd. which is a Lucknow-based company", explained Abhishek.
Tell us about your job role and the company where you got placed.
I got a job offer for the role of Associate Software Engineer from Cedcoss Technologies Pvt. Ltd. through AMCAT after giving 2 rounds of technical interviews and one coding round. I also applied for other companies through AMCAT for my better future," informed Abhishek.
Will you tell others about AMCAT? Why do you think AMCAT is an ideal choice?
Yes, I'll definitely recommend AMCAT to everyone. The best thing I found in AMCAT platform is that after giving we get information about our weak and strong areas in the feedback report and we can work on that accordingly", said Abhishek.
What role did the AMCAT feedback report play in the process?
The AMCAT feedback report is one of the best things on AMCAT platform which helped me to work on my weak areas. The feedback report also helped me to get information about my strong and weak areas", concluded Abhishek.