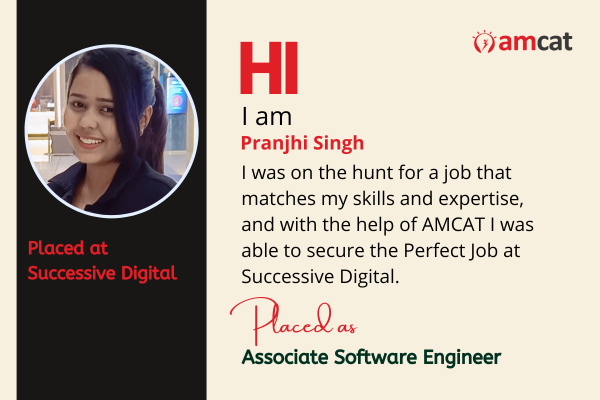 I'm happy that I chose to take the AMCAT because it allowed me to successfully launch my professional career. I was given an incredible opportunity to start my career as a fresher and got an amazing job. Please continue reading to learn more about my smooth and successful story.
Pranjhi, why did you opt for AMCAT?
"AMCAT's process was easy and efficient. It has various companies with great profiles and higher packages. As a fresher, one needs to explore and find the most suitable job while entering the corporate world. So, I felt AMCAT is good at it", said Pranjhi.
While looking for a job, did you face any difficulties? Please elaborate.
"A big no, I did not face any difficulty while looking for a job. Earlier, I was placed through college placements. But that job profile was not good enough. AMCAT provided me with the job in the field that I wanted to explore and wanted to work in", explained Pranjhi.
Tell us about your job role and the company where you got placed.
I was selected as an Associate Software Engineer in successive digital and I have recently joined the job is great. The process is firstly I applied through AMCAT after that there was a technical MCQ round followed by one-to-one personal interviews and that interview was divided into 7 sub-coding tests in which each round was an elimination round followed by the interview. And then after a few days, they generated my offer letter", told Pranjhi.
What role did the AMCAT feedback report play in the process?
"The AMCAT Feedback report makes it easier for you to work towards improving your skills. The skills which need more attention are highlighted in the report. You can take advanced classes that can help you upgrade your skills", said Pranjhi.
Will you tell others about AMCAT? Why do you think AMCAT is an ideal choice?
"Of course, I will recommend AMCAT to others. When you get opportunities with AMCAT on your own device. What else does a fresher need?", concluded Pranjhi.