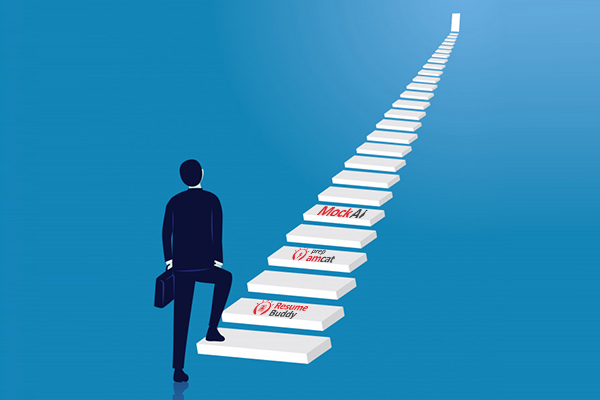 Almost everyone dreams of a job that not only pays well but also lets you enjoy the best of work-life balance.
However, getting your dream job is not as easy as it sounds and you need to work on your core skills, resumes, and interview skills to make the cut.
When taken individually, these three aspects of getting a job seems like a lot of work. However, when taken together and put under one broader umbrella, it becomes a fun task to complete. And, this is where AMCAT Premium comes in.
AMCAT Premium is that three-in-one package you need to pave the way to your dream job.
And, how exactly can you do that?
Let's find out…
Build your core skills
Getting your dream job is a lot about how good you are at what you do and how clear you are on core concepts and skills. And, with AMCAT Premium's PrepAMCAT, you are encouraged to brush up your core skills.
PrepAMCAT is an AMCAT preparation tool and works on the same grounds as the AMCAT exam. That is, it is an adaptive mock test that molds itself around how you answered the previous question/s. However, more than anything else, PrepAMCAT is based on the premises of you knowing the concepts thoroughly.
If you are not relying on mugging up concepts and formulas to get good marks but are determined to understand things, then you will do well wherever you go. Whether you give the AMCAT exam after that or any other test for any company, you will excel if you are aware of the subject you are pursuing.
Getting the job resume right
The key to a great job is an equally great job resume. The more desirable a job opening is, the higher will be the competition, and thus the better your job resume needs to be.
AMCAT Premium covers this aspect of job search with Resume Buddy. Resume Buddy is one of the best resume building tools in the market today and can be super helpful if you are eyeing your dream job.
You might already know by now that your resume should be no longer than a single page, and at max should extend to two pages. However, you might struggle to fit in all the relevant information in such a short space while ensuring the focus is laid at the right place, the font is not too tiny and the resume doesn't look cluttered. Add to that the struggle of proofreading your resume and ensuring it is as error-free as it can get.
All that can make the whole process of resume writing a little scary. However, with Resume Buddy you can craft a great job resume in minimum span of time and with little effort on your part. All you need to do is feed all the information into the system, choose the resume template you would want to go with it and let Resume Buddy work its magic.
Know how to carry yourself during a job interview
Another important step that you need to excel at in order to get your dream job is the job interview. Even if you earn a reference or are shortlisted purely on the basis of your marks, you would still have to sit through the job interview. And, that is where AMCAT Premium comes in.
With AMCAT Premium's Mock-AI, you get a chance to prepare and prepare well for the job interview. When you are sitting for a job interview, there are a lot of things that need to be taken into account. Apart from knowing the answer to basic interview questions and questions related to your subject, you also need to have an impeccable body language.
Your body language and the non-verbal cues you give out really play an important role in ensuring that you get the job. If you are confident enough, then everything you say will have a ring of authority about it.
You need to prepare for all possibilities and work on your core skills, job resume and interview aptitude to land your dream job. And, AMCAT Premium can help you in every way and aid you as you embark on the job search journey and start preparing to start your life in the world of jobs and careers.