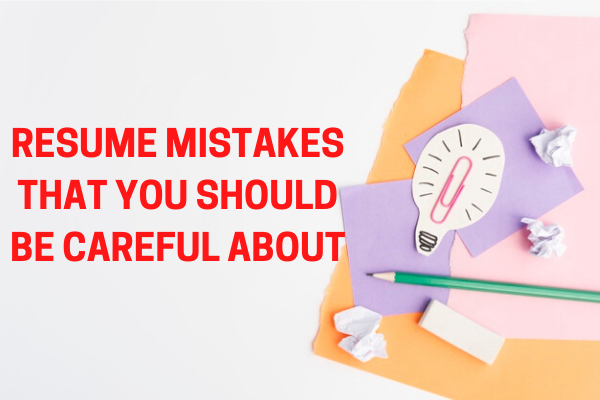 Your job resume is the one thing that can have an immense effect on your chances. Therefore, you should do everything in your power to make your resume flawless. With your resume writing skills, you can achieve just that. When crafting your resume, make sure you include everything the recruiter looks for in a job resume. Plus, you should have all the tips and trick about making an eye-catching resume on your fingertips.
However, just knowing about the things to include is not enough. You need to know about the few ifs and buts when it comes to writing your resume. Here are some common yet resume mistakes that you should not make.
Typos And Errors
First and foremost, you should not make any grammatical errors when drafting your resume. These silly yet common resume mistakes can cost you the job. Therefore, try not to make any such mistakes as it shows the recruiter how lazy you are and will jeopardize the impression you have on the interviewer.
Irrelevant Information
Now, you don't have to explain every accomplishment and work experience within two lines each. But you need to have a balance in your resume. Here, your resume writing skills will help you. When writing your resume, neither go too long nor too short. Rather than rambling on about something which might be insignificant, you should use that resume space to talk about your impressive achievements.
The recruiter wants a short job resume. They neither want nor have time to read your autobiography. Therefore, keep your resume short and sweet. Only mentions things that are relevant to the job post. Moreover, if you want to explain something that you think is important then, rather than putting it on your resume, mention it in your cover letter.
In addition to that, when writing your summary try to use industry keywords or words from the job description. Try not to use statements that are general and overused.
Length Of The Resume
The ideal job resume should not be more than 2-page long. However, that doesn't mean that you have to leave off any significant or relevant information. The key is to utilize the space as efficiently as possible. The length of your resume and cover letter is important because your resume should be skimmable. Moreover, when writing your cover letter try to keep it between three to four paragraphs.
Generic Resume
The days of ' one resume for all' are gone. It is the era of cover letter and customized job resume. Hence, you must make a new resume for a new job applied. It will show the recruiter that you are serious about getting this job. Although crafting a new resume for every job applied might sound like a lot of work, but the outcome of this hard work is the job you want.
Therefore, you should not apply to all the jobs with the same resume thinking that the recruiter won't know, because they will. And, then your chances will go down the hill.
Lack Of Creative Touch
Moreover, you can also use different resume templates and format to make your resume stand out from the crowd. You should showcase your creativity in your resume especially if you are applying for a creative job. As through your resume, your skills will speak to the recruiter.
For instance, if you are applying for a job where you need to have video-making skills then rather than just mentioning it on a piece of paper, you can make a video resume to show how good you are.
There are some of the pitfalls that you can easily dodge just by paying close attention to your job resume. However, making mistakes is human nature. Therefore, you can take the help of AMCAT resume writing tool which will help you in avoiding such reckless mistakes.