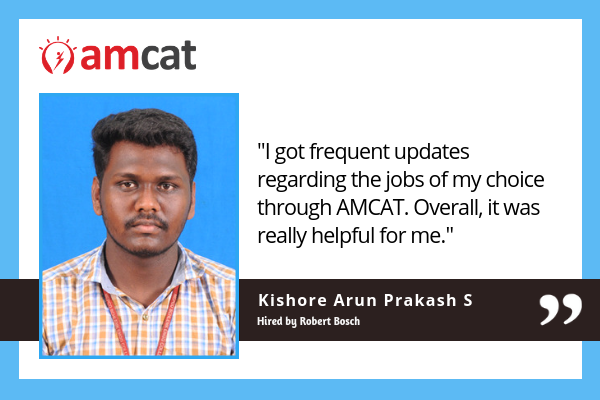 How does the AMCAT exam help you find your dream job? Does it really live up to its claim of helping freshers find a good job? What is the AMCAT exam all about?
These might be just a few questions you would seek the answer to when opting for the AMCAT exam. And, to answer these questions, we are going to take the help of the success story of Kishore Arun Prakash S.
Kishore recently got a job with Robert Bosch through AMCAT. Let's see what he has to say about his AMCAT journey.
Why did you opt for the AMCAT exam?
Kishore says that he opted for AMCAT because "it provides a lot of job opportunities."
He further talks about how when he was on a job search, he never faced any difficulties. He says that since AMCAT 'regularly posts new job updates' he didn't have to worry about a thing.
The multiple job options brought him closer to his dream job and helped him achieve his goals.
Tell us about the job you got through AMCAT
"I was interested in pursuing a job in a core company. I applied for a few such jobs through AMCAT and started receiving interview offers."
"I got frequent updates regarding the jobs of my choice through AMCAT. Overall, it was really helpful for me."
Would you recommend the AMCAT exam to others? 
"Yes", says Kishore. He adds that the AMCAT exam "is very helpful for freshers in getting good jobs. Therefore, I would suggest it to others."
"AMCAT also helps you know what a specific company requires from the candidates." This obviously gives you a chance to prepare better and apply accordingly.
The AMCAT exam can be a perfect career and provide you with multiple job options as stated by Kishore. It can make the job search easy and introduce you to new opportunities.
So, without wasting any more time, just schedule your AMCAT test right away.
What are you waiting for?