The main concern of any student as they enter college is placement. Getting into a tier 3 college may add to the uncertainties and fear around it. However, if the situation is approached well with the required preparedness then any student can get a lucrative job irrespective of the college they belong to.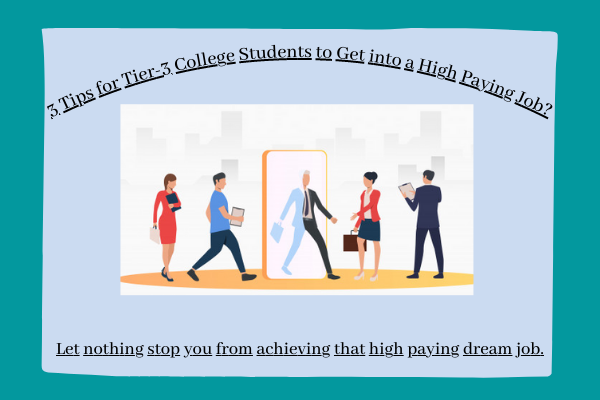 For instance, recently few of our candidates with similar education backgrounds shared how they made it to their high paying dream job with AMCAT. There are many more examples wherein students belonging to tier 3 colleges have made big as professionals.
Do you know to learn more? Delve into the three "trinity-tips" to crack interviews of high-paying job opportunities.
3-Tips for Tier 3 College Students to Make it Bid Professionally
Before facing the interviews, students dread the idea of going unnoticed because of their humble educational background. However, you need to understand how today's world is changing. The eminent leader, Nupur had recently shared with AMCAT how companies are broadening their selection criteria and are welcoming students based on their competence more than anything else.
Thus all one needs to do is work on becoming polished. This only comes by studying organizational expectations.
Companies look for capable candidates with relevant job skills. So here is how you can increase your visibility amongst the recruiters and get an offer from a good company irrespective of belonging to a 3 tier college.
1. Take Employability Tests
This is the best way to exhibit your skills. Employability tests are smart assessments that MNCs and blooming startups lean on to save time by filtering out the desired talent.
Employability assessments test you on a wide-ranging of parameters which tells a lot about your professional strengths and gaps. At the same time, these exams open you to not just one recruiter but numerous of them. So you don't have to risk your time and energy on one option but can hop on to other ones where you are valued for your competence.
Our candidate, Vitesh lately shared how he could turn bleak job opportunities into an abundance of potential offers.
Do you want to register for the AMCAT exam? Click Here to book a slot.
2. Your Application Will Decide Your Professional Course
It is extremely important to check the job role and apply for the job accordingly. Refrain from sharing the same resume across different companies.
Instead, study the profile, job description, company's value and vision. Then curate your resume accordingly. It may work for a good chunk of opportunities. However, then always curate a different resume if required.
Another thing that you must keep in mind:-
i. Create cover letters whenever required. It would be best to send one while reaching the companies through cold emailing or individually through job websites.
ii. Depending on the nature of your work, create a portfolio as well.
3. Let Your Profile Become Your Credibility
Our guest, Mr Hariram profoundly shared that in today's time, becoming multi-skilled and upskilled is the key to sustain in the job market today. You will invariably become a job magnet as that is what the recruiters look for- Your competence.
This is how you can do it:-
i. online courses,
ii. take employability certificates, and
iii. showcase your work live on social media and supporting platforms.
You can take AMCAT certification for the desirable skills.
Click here to register.
Conclusion
Today's job scenario is dynamic and ever-changing. You will be shortlisted for your creativity and competence. Beng in a tier 3 college is not an end to opportunities. All you need is to turn your sight and approach it differently. Build your "skill muscles" and go all out for the job you desire.
All the best
Get in touch!