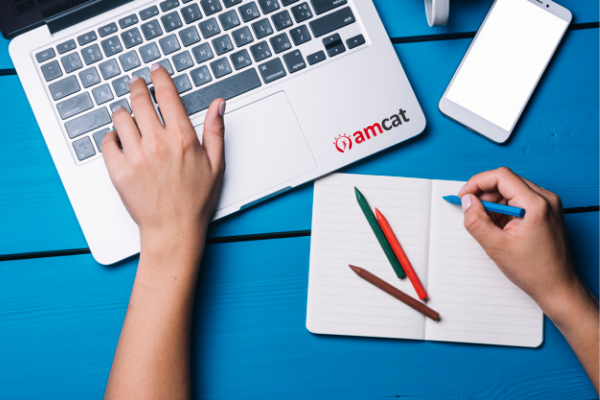 Campus placements give the recent graduates a great platform to help them connect with companies and give them excellent job opportunities. However, that doesn't mean that the offer letter will be served on a silver platter.
In order to start your career in your dream company, you need to stand out from the rest of the applicants. Getting placed in campus placements isn't as easy as it seems. So, to help you put your job application at the forefront, here are the top 10 campus placement tips that you must know when starting your job search.
Start Working On Your Job Resume ASAP
With campus placements, you don't have to fill-out long job application forms. However, you still need to tweak your job resume as per the job role and the company.
To ensure that your job resume gets selected you should take words from the job description provided to you and use them in your resume headline or under your skill section. This will highlight all the right skills and abilities.
Pay Extra Attention To Your Resume Template And Resume Length
Other than the content of your job resume, you should also work on your resume format. The presentation of your resume matters as much as the content, if not more. You can either google some professional resume format and replicate them or save time by opting for Resume Buddy, which houses more than 35 resume templates for you to choose from.
The length of your resume is also very important. So, make sure your fresher job resume doesn't exceed more a page. The recruiter doesn't spend more than 6 seconds on a single job resume, so make sure that your resume is error-free and skimmable.
Don't Forget To Attach A Cover Letter
Attaching a customised cover letter to your job resume is one of the best ways to show the reader that you are serious about the job role and did your homework. You cover letter should include the reason WHY you are applying for the job role, WHY do you think you are the right candidate and WHAT do you know about the company.
If possible try to find out who the interview is so, that you can personalise it more. In addition to that, the length of your cover letter should not be more than 4 paragraphs long and should only cover information that you didn't mention in your resume.
Brush-Up Your Interviewing Skills
Once you are done with your job resume and cover letter, you should start focusing on your job interview skills. In campus placements, your interviewing skills will get you closer to the offer letter, so make sure you are working on them.
The best way to polish your interviewing skills is by giving mock interviews at home, especially when most of the hiring will be done virtually. You can either take the help of your friends or family member to practice. If you want to get your interviewing skills professionally evaluates, then you can opt for Mock-AI.
Ask For Feedback And Work On Your Weakness
In order to improve your interviewing skills, you need to work on the feedback given to you. If you have opted for Mock-AI, then you will get a personalised feedback report highlighting your strengths and weaknesses.
When giving mock interviews, you should ask the interviewer to note down the areas where you lack. This will help you in the long run and will build-up your personality for the future.
Be Mindful Of Your Body Language
From the start of the interview to the end of the interview, the recruiter will try to decode your body language. That is why it is very important for you to have a confident and positive body language.
When going for the campus placements, make sure you have a polite smile on your face and keep eye-contact with the recruiter throughout the interview. If you are giving a video interview, then make sure your surroundings are clean and there is no disturbance from your side.
Practice Answering Common Interview Questions
To answer all the interviewer's answers confidently and fluently, you should practice answering top HR interview questions. It doesn't matter whether you are going for a face-to-face job interview or a virtual job interview, the questions are almost going to be same.
However, due to the coronavirus pandemic, you should be prepared to answer some of the questions related to it. For instance, the recruiter might ask if you are comfortable working from home or commuting to work. So, be prepared to answer all the interview questions calmly and positively.
Prepare Interview Questions For The Recruiter
An ideal job interview is a two-way street and the recruiter might be expecting you to have some questions or queries related to the job role or the company. So, when the recruiter asks if you have any questions for me, always answer it with a YES.
However, that doesn't mean you can ask any irrelevant or stupid question to the interviewer as that might put you under the negative light. Prepare at least 2 interview question related to either your job role or the company. Due to the pandemic, you can also ask the recruiter questions related to that.
Dress Professionally For the Campus Placements
Whether you are going for a face-to-face interview or doing a virtual interview at home, you should be dressed properly. If campus placements are virtual, then don't think out wearing a shirt over your pyjamas. The recruiter will know and that might jeopardize your chances of moving to the next round.
So, make sure you are wearing formal trousers with a neutral coloured shirt and little to no jewellery. Your outfits tell a lot about your personality, that is why make sure you are looking clean and professional.
Continue Looking Out For Job Opportunities
The most important tip to get a job during campus placements is never giving up. There might be instances when you won't hear back from the recruiter or placement coordinator. However, rather than losing hope, you should try to find out where you went wrong and learn from your mistakes.
Having a healthy and motivated mindset will help you continue your job search, even during the global pandemic. Moreover, if you are unable to get a job during campus placements, then you can always apply for off-campus jobs.
Conclusion
Getting a job in campus placements is easier than off-campus placements, but you need to work hard to get the job of your dreams. So, if you want to start your career with the right job opportunity, then you should start gearing up for your job search with these tips for campus placement.