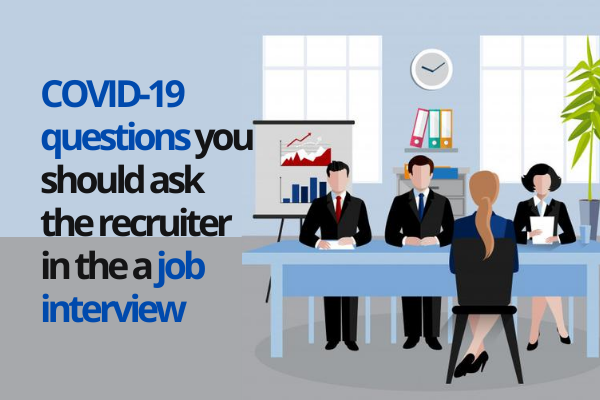 Job interviews are a great way for you to know more about the company, especially during this trying time. And, what is the best way to clear your doubts and worries then asking interview questions?
Due to the coronavirus pandemic companies and industries have changed and it is your responsibility to ask insightful and relevant interview questions to ensure you make the right decision. Asking questions will help you evaluate your future employer's response to the global pandemic. Answers to your questions will help you determine if the company truly has your safety, job security and financial interests in mind
So, to help you gain important insights and make an informed decision, here are 5 interviews questions during COVID-19 pandemic that you should ask the recruiter.
Question 1: Can I work remotely?
The only way to keep yourself safe without jeopardizing your career is by working from home. So, make sure you ask the recruiter whether the job profile requires you to come to the office every day or you can work from home.
If it is an in-person job opening, then ask the recruiter whether the company will provide transportation or not? Due to the coronavirus pandemic, the public transportations is either closed or inefficiently working, which will make it harder for you to commute daily.
Question 2: What safety measures are put in place at the office?
If it is an in-person job, then your top priority is to ensure that the prospective employer is following proper guidelines to prevent the spread of COVID-19.
Ask the recruiter interview questions such as, " What measures are put in place to screen employees?" or "How do you deal with an employee who appears to have COVID-19 symptoms?"
You should carefully listen to the tone of their response and try to read between the lines to know whether the potential employer has your back or not.
Question 3: What is the impact of COVID-19 on the business? Any future implications?
Before making a long term commitment, you need to know if the company is financially stable and what are the strategies put in place to increase sales and manage budgets. This will help identify red flags and how much the employer prioritizes job security.
Try to know more about the future implications of COVID-19 on the business. Only accept the offer letter if you are comfortable with the employer's response.
Question 4: What tools are you using to continue communication and collaboration between employees?
Many companies have been forced to embrace remote work and have to face many challenges and changes because of it. To overcome these changes, it is important for you to know what type of work culture the company promotes.
This interview question will help you get a good understanding of how the company is efficiently working together. Moreover, the employer's answer will tell you whether you are joining the right place or not.
Question 5: Can you describe the ideal candidate for this job role?
This is the most important and relevant interview question that you must ask the recruiter. Due to the coronavirus pandemic, the recruiters are looking for candidates who can work from home. Moreover, a basic knowledge of video conferencing tools and computer software is a must.
So, to move on to the next round of the hiring process, make sure you know the kind of candidate the hiring managers are looking for.
So, these are the top COVID-19 questions interview questions that you must ask the recruiter to make an informed decision. Continue looking out for opportunities in your desired field of work. Companies are looking for proactive, disciplined and motivated candidates. 
And, if you don't want to lose out on any relevant opportunity, then book the AMCAT exam. As of now, more than 100 candidates started their career with a bang in their dream company. Don't believe us? You can read their testimonial here.
So, stay positive and keep on working on your job search.
All the best!