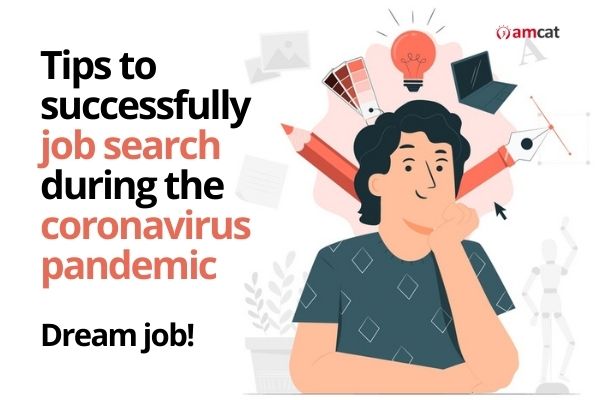 The COVID-19 pandemic has changed the way candidates used to get hired. However, even during the global pandemic, there are multiple good job opportunities for you to kickstart your search for your dream job.
In order to help you target these top job opportunities, we have curated this blog will is filled with job search strategies that will come handy when looking for good jobs during COVID-19.
Study the impact of COVID-19 on the job market
The first step to have a successful job search amid the pandemic is by learning about the present job market and job profiles that are in demand. Having a thorough knowledge about the job scenario will help you target the right opportunities.
You can use this insight in your Cover letter and job application to showcase your awareness and steps that you took to strengthen your job application. Moreover, it will help you take your job search to the right path.
Strengthen your candidature
Once you have decided on the job profiles that you want to target, you should not waste any more time and start working on your candidature. The best way to strengthen your candidature without putting yourself at risk is by opting for online certification courses.
There are plenty of online courses available online to help you kickstart your learning while staying at home. Just make sure all the certifications are relevant to the profiles that you are targeting.
Work on creating a professional profile
In order to ace your search for good job opportunities, you should work on creating a professional persona on LinkedIn. Having an updated profile on LinkedIn can help takes hours off your job search. Through LinkedIn connect with recruiters from different companies, learn about the recruitment process and the kind of skills that are in-demand.
LinkedIn gives you the opportunity to learn, connect and stay up to date with the changes happening in the corporate world. Moreover, it gives you the platform to get your skills to endorse by your colleagues, classmates and professors.
Send out job resumes
To kickstart your hiring process, you need to start sending out your well-written, error-free and customised job resumes. On the basis of your job resume, your application will move to the next round of the hiring process. So, to end your job search successfully, make sure you have a well-crafted and professional job resume with the right resume template.
If you are running short of time, then you can always opt for Resume Buddy and create an impeccable job resume within a few minutes. In fact, Resume Buddy's AI recommended verbs, words and sentence recommendation will make your resume more job effective.
Start prepping for interview calls
Once, you have started sending out your job resumes, you should also, start practising your interviewing skills. To get good job opportunities, you need to clear a few interview rounds. Now, due to the pandemic, the hiring manager will mostly take a virtual job interview with the help of video conferencing tools.
Even though it will be most likely a video interview, you should still work on your body language and strengthen your communication skills. The best way to do that while sitting at home is by giving as many mock interviews as you can. You can opt for Mock-AI to give mocks at home and get personalised feedback report to work on the areas where you are lacking.
Conclusion
This is the ultimate step-by-step guide that you should follow and incorporate in your job search during COVID-19. In addition, to take your job search to the next level, you can also opt for AMCAT and get exclusive job opportunities.
And, if you have already booked the AMCAT exam, then you should consider subscribing to AMCAT premium which includes PrepAMCAT, Resume Buddy and Mock-AI. This will give your job search an all-round edge and will help you get good job opportunities.