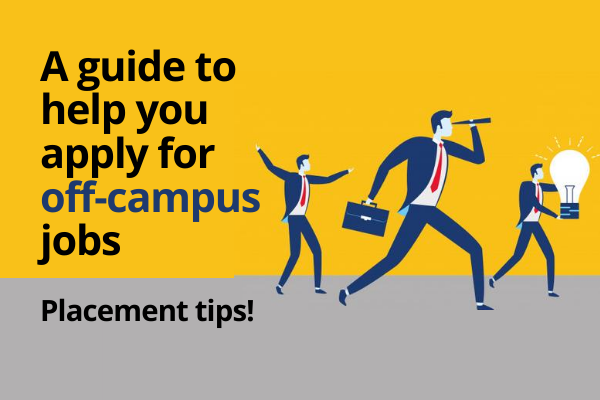 Off-campus placements are an excellent opportunity for you to find your dream job during the coronavirus pandemic. Although off-campus placements can be a tough roller coaster ride but with the right tricks and hard work, you can successfully end your job search with the job of your dreams.
Moreover, there are thousands and thousands of off-campus jobs available for freshers. So, don't question your job preparation and learn the best ways to get through off-campus placements. Here are a few ways in which you can apply for job opportunities.
Give the AMCAT exam
AMCAT is an employability exam which enables you to evaluate your skills, earn industry-recognized credentials and find exclusive job opportunities. This is why it is one of the best ways to get off-campus placements because it opens up 'n' numbers of opportunities for you.
Moreover, the AMCAT exam assesses your skills in both technical and domain knowledge. Through your AMCAT score, you can gain access to hundreds of suitable jobs for freshers. You can also put up your score on your LinkedIn profile and show the prospective recruiters how skilled you are.
Visit Job Portals
One of the most popular ways to search for off-campus placements is by exploring job opportunities on job portals or job websites. Moreover, there are plenty of jobs listed by companies on platforms like LinkedIn and Glassdoor, which are great places for you to start off your job search.
AMCAT also has a job portal which lists the latest and most in-demand jobs for both freshers and experienced candidates. To get interview calls, ensure that you complete your profile on these portals.
Create Connections
Networking has become a crucial part in off-campus placements. Your LinkedIn network would comprise of your colleagues, batchmates, seniors, professors and friends. You should let these connections know that you are looking for opportunities
In fact, many companies have roles that are first announced internally and then put out on public portals and such job opportunities are available only through your network. Moreover, make sure you follow your dream company on all the social media platforms for any job opening.
How To Prepare For Off-Campus Jobs
Once you have applied to job openings, the next step is to start preparing for those opportunities.
Complete Certification Courses
One of the best ways to show the hiring managers that you are serious about your job search is by having relevant certification courses. Moreover, certifications from an accredited source can give validation and recognition to your skills.
To get a substantial edge over the other candidates, you can opt for AM certifications. There are a lot of certification courses for you to choose from and get your skills industry certified. Your certificates will help you showcase your employability skills and your competence in both hard and soft skills to the hiring managers.
Prepare The Perfect Job Resume
Even before you start applying for job openings, you need to have an impeccable job resume by your side. In the big world of off-campus jobs, your resume should stand out from the thousands of job applications. Make sure your resume is eye-catching and filled with keywords from the job description.
Resume Buddy is the perfect tool to give your job search an edge by crafting an impeccable job resume with a few taps of your mouse. Moreover, the tool has resume templates and will help you write error-free content to give your resume a professional look.
Interview Preparation
In off-campus jobs, once you are shortlisted, you will have to go through a series of interviews. That is why you need to start preparing for the interviews if you want to make an impact. You can use a tool like Mock Ai and give mock interviews to hone your interviewing skills.
Moreover, you should prepare answers to common interview questions and learn how to conduct successful virtual job interviews at home.
In order to ace off-campus placements, you need to be proactive, smart and hardworking. Take your job preparing to the next level and soon you will find yourself with your dream offer. So, take these tips into consideration and start your journey towards your dream job.