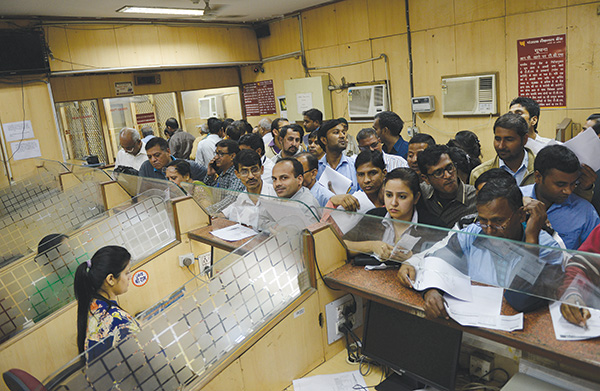 Before applying for fresher jobs in India, one needs to know the market of the relevant industry. It helps you in getting a better job that matches your calibre and offers you the maximum output for your hard work. In this blog, we have summarised jobs in banking sector. Read more to know about banking jobs and how well they can pay you in 2017.
Overview of Jobs in Banking:
The last financial year has been a good one, in terms of banking jobs. Despite a global economic slowdown in the sector, opportunities in banking and financial services in India have been able to maintain an equilibrium. Steady pace with digitisation, automation and client-friendly endeavours (more relationship managers) have meant positive growth in employment, leading to as many as 48,000 new jobs.
What's more: Jobs in Banking and Financial services are also being fuelled by innovations in the finance industry like Payment banks, e-wallet companies and the need for compliance experts.
Fresher jobs in Banking and Financial Services:
India is projected to become the fifth largest banking sector globally by 2020, according to a joint report by KPMG and Confederation of Indian Industry in 2016. The next surge of fresher jobs in the sector is expected from:
New financial products (Payments, M-banking, M-Commerce)
Stress on customer service and interaction points for digital financial services.
Top 5 profiles in demand in the banking sector:
Investment Banker
An all-time popular profile in the banking sector, Investment Banking is forecasted to have a huge growth prospect in a developing economy like India. The entrepreneurial capability of India and pretty extensive unexplored sectors combined lead to these prospects in 2017.
You need a BBA or MBA degree as a pre-requisite to enter the job profile. The average salary is around 20 lakhs per annum, one of the highest paid jobs in banking sector.
Probationary Officer
Bank probationary officer is an entry level job to the officer level. The chances of growth are very good.
In fact, if you perform well during the probation period, you can immediately start moving up the hierarchy. Graduates from any stream can apply for the post of probationary officer, gaining responsibilities ahead of a retail personal banker or a Relationship Banker. The average salary offered to a probationary officer is around 25,000 per month including allowances.
IT Officer
That's one profile which is extremely popular these days in the banking sector and doesn't employ aspirants from the commerce background. B.tech/B.E or M.Sc in relevant field is required to apply for the role. The IT officer is responsible for maintaining the software systems of the bank along with the servers, database, and other networking aspects. The salary offered is quite rewarding and one of the best in industry.
Bank Specialist Officers
Even though most of the specialist officers in Banking Jobs are hired according to job experience, fresher aspirants may apply for the post of Junior Management Scale officer, for which no prior experience is required but you might be required to pass a few levels of scrutiny. Once in, you can gain experience and move to upper designations in the field. The salary, of course, isn't as much as senior officers, but the scope of growth is much of a motivation.
Loan Officers
Loan officers can be a variant as the number of loans provided in the country. Normally, the size of the banking unit decides how much diverse is your work. If it's a small bank, you might be needed to handle all kinds of loan, while bigger banks have different representatives for different loans, like a loan underwriter. There is scope of growth and the salary is good. So, we have sorted it up a little for you? Looking out for a suitable job after getting a hard earned degree
So, we have sorted it up a little for you? Looking out for a suitable job after getting a hard earned degree is a difficult task and the more you narrow down the choices of your employer, the better it is. You can add up skills in your resume by taking relevant AMCAT test. This will not only make you more desirable
This will not only make you more desirable for a given job, but will also prepare you for similar tests taken by organizations for screening their candidates!
If you liked this, consider following up on these employment outlook stories: