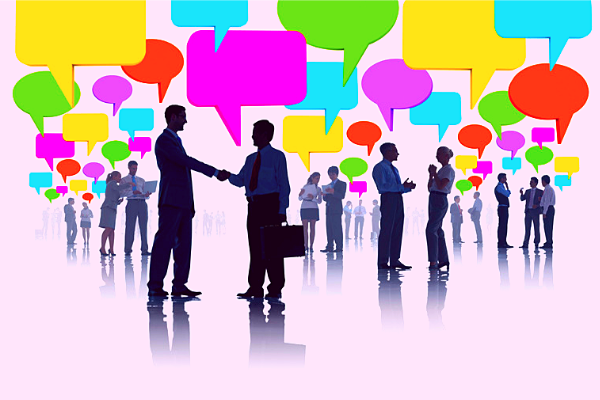 Professional networking – a term that is suddenly drawing a lot of attention and for all good reasons. People are now becoming aware of what professional networking is all about and how they should go about it. However, while there are so many people making the most of this networking wonder, there are others who are still unaware of it. If you too fall in the same category, then dig in, for we are going to discuss what professional networking is, why you need it and how to achieve it –
What is professional networking
"Networking is a deliberate activity to build, reinforce and maintain relationships of trust with other people to further your goals. Professional networking is simply networking focused on professional goals." – Andrew Hennigan, Networking speaker and author of "Payforward Networking".
Professional networking is all about connecting with people who can help you expand your career and make smarter career choices. It is kind of like having friends who are well-versed in your profession and can be there for you when you need them and vice-versa.
Special Offer: Get AMCAT at just Rs.949/-. Use Code BLOG2019 at payment page. Hurry! code valid till 31st March 2019 only. Register Now.
Why is professional networking important
Professional networking or networking has many advantages and can help you both in the short and long run.
Learn about new job openings
Many companies, especially the bigger companies, don't always post about all the job openings on online portals. The hiring is often enough done internally and you might not even get wind of it until and unless you have someone on the inside who can tell you about it.
Also, you can, in general, learn about new job opportunities in your field through your network of friends and enjoy the benefit of networking.
Get referred
Getting a referral from someone who is already in your field or someone who is already working in the company which is hiring can be a great boost for your career. Recruiters prefer candidates referred by other employees and as such your chances of getting a job increases manifolds.
However, you still need to prove yourself during the interview and appear savvy and confident. Your network can only get you so far and you will have to be ready to impress the recruiters during the hiring process and the job interview.
Know prospective employers and company
A sure shot way of finding success in your job search is knowing all about the company and the employers and their values. This will help you frame your answers better during the job interview and clarify things for you – whether you want to work in a particular organisation or not.
Your professional network can help you here and introduce you to potential employers, making the ride easy for you.
Get advice on projects and ideas
When you have people from the same field, then you can discuss professional ideas and the projects you want to work on and gather truck-loads of advice in the process.
You can also bounce off ideas across each other to come up with something unique to work on or seek the advice from people in your professional network to understand which career steps might be the best for you.
How to build your professional network
There are many ways in which you can meet new people with similar interests or career goals or people who are already doing wonders in their profession. A few of them are –
LinkedIn
LinkedIn is the social media for professionals and as such it is no surprise that it features on top of our list of professional networking means. It is a great platform to find people from your professional background and reach out to them.
You can meet the friends of your friends there or people from the same Alma Matter and so on. However, once you start following these people on LinkedIn, have a plan to connect with them or they will just be contacts on your LinkedIn list and nothing more.
And, to make a successful LinkedIn account, read "what should your LinkedIn account say about you." 
Attend seminars
Seminars can be a great place to connect with more and more people. You will find a great number of people moving with a similar goal of acquiring more knowledge. As such, it would be easier for you to connect with people there as you would have a common topic to discuss and get to know each other over.
And, even if you are not too outdoorsy, you should shed that personality for the betterment of your career and to enjoy the benefits of professional networking.
Be a part of job fairs
Job fairs, like seminars, are another great way to meet new people and expand your professional network. However, don't expect the same warm reception at job fairs as you can during seminars for during job fairs people tend to be more nervous and more competitive.
Attend school and college reunions
Even after you have passed out from your school or college, it can continue to guide you ahead on the path to success. You can expect to meet your seniors and former classmates around this time. Some of whom might already be enjoying a steady, fruitful career.
Get in touch with them, exchange numbers, learn from them and seek their help whenever required. For more on how to build your network the right way, read our blog on the topic. 
Professional networking can be great if you want to make your job search easy and court brilliant job opportunities. And, now that you know what professional networking is all about, make sure you to enjoy the best of it and expand your network wherever you go.
Special Offer: Get AMCAT at just Rs.949/-. Use Code BLOG2019 at payment page. Hurry! code valid till 31st March 2019 only. Register Now.