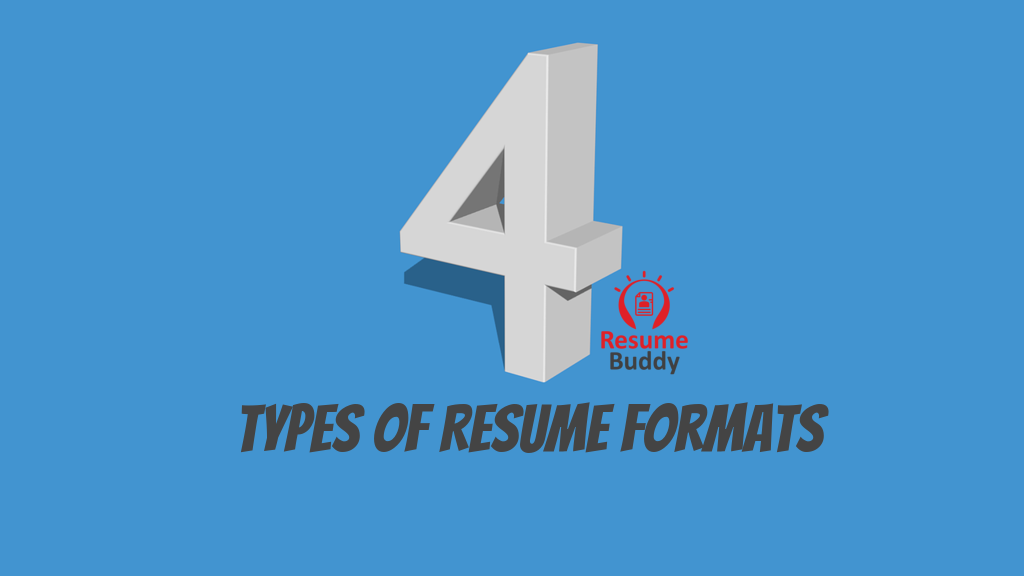 Your search for resume templates will lead you to find four basic types of job resume formats. A format is the way something is arranged, and once you understand how the job resume content is organized, you can find the best one for you.
The order of content is important because –
Top to bottom viewing – Most people read top to bottom and what they see first is what they start analyzing, hence it's important to choose what goes in which order.
First impression – You have to carefully choose what goes up and how it is written because it makes an impact on the recruiter. If you write your academic scores on top but have low marks, then it does not help you at all!
Special Offer: Get AMCAT at just Rs.949/-. Use Code BLOG2019 at payment page. Hurry! code valid till 31st March 2019 only. Register Now.
Now that you are aware of how job resume formats are essential in guiding the recruiter to read your resume, it is time to understand the four types of formats –
Type 1.

Chronological Job Resume Formats
The chronological format is one of the most popular job resume formats used by candidates. In this type of format, each section is written in reverse chronological order with the latest first.
The work experience column will include all the jobs you have done with the last job on the top and the first job in the last.
Even the educational qualification column will have your latest degree on the top and schooling at the bottom. This makes it easy for the reader to understand your history at a glance.
Pros – This is ideal for those with a lot of work experience and good academic scores.
Cons – Freshers will not have much to state in terms of work experience and will have an unimpressive resume. It is not suitable for those candidates with gaps in their resume, and this may be highlighted instantly.
Type 2.

Functional Job Resume Formats
The functional format is focused on the skills and abilities of the job candidate. The resume templates in this format look slightly different as they list out the things that highlight the skills of the candidate to the job required.
You will have to list out your various skills and then under it mention all the accomplishments and activities that were done with the skill set.
Pros – This type of resume format is perfect for those with resume gaps and those who are looking for a career change
Cons – Traditional recruiters may not be happy with this format as they may wonder if you have something to hide in your resume
Type 3.

Combination Job Resume Formats
Currently, this type of job resume formats are quite popular as they use both elements of a chronological and functional format. This is where you can use several resume building tips, you can showcase your skills on the top of the resume and follow it up with a chronological history of work and academics.
This way you can highlight your suitability through skills but ensure that the recruiter has a full understanding of your previous career.
Pros – It is good for those who wish to change careers but at the same time also want to showcase they have a rich work history and academic career
Cons – There is a possibility that these resume templates make your resume longer and will need more space to fill out all this information in one space.
Type 4.

Targeted Job Resume Formats
The targeted job resume formats are nothing but customized resumes. For this, you have to write your resume highlighting the same requirements as the job requirements.
Every detail on the job description should be addressed by your resume, this way the recruiter can instantly decide if they should call you for an interview. Any irrelevant stuff is removed from the resume, and the information will be provided if asked for.
Pros – Such a resume will easily pass through ATS (Application Tracking Systems) as they will have all the keywords required. It will be easy for freshers who can instantly convince the recruiter why they should be hired.
Cons – It may not be enough for senior positions where they are keen on your entire work history and not just the skills or jobs related to the current position.
Now you will be able to pick up resume templates based on your chosen type of job resume formats. If you are looking for a variety of options to choose from, you can use Resume Buddy which has over 25 resume templates that are suitable for both freshers and work experience candidates.
Special Offer: Get AMCAT at just Rs.949/-. Use Code BLOG2019 at payment page. Hurry! code valid till 31st March 2019 only. Register Now.