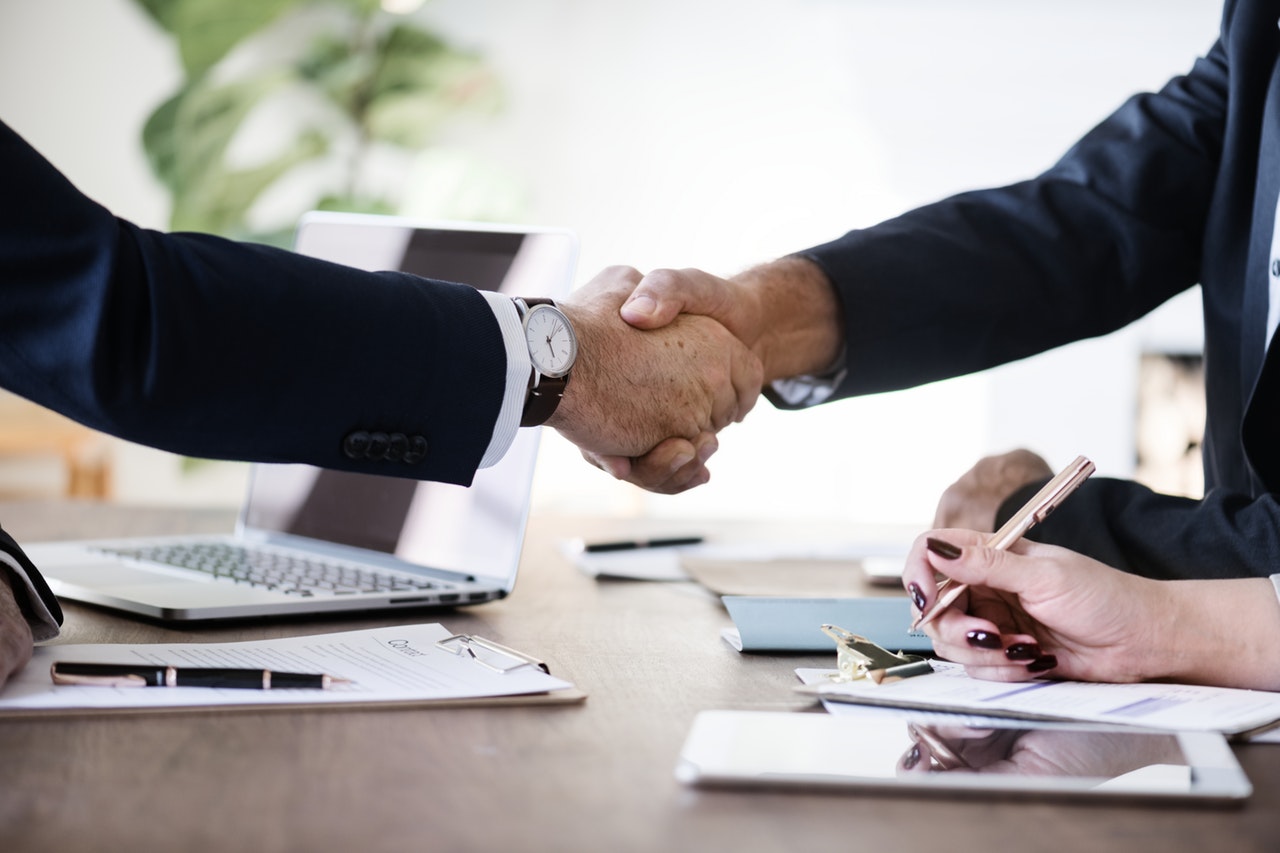 When you get the opportunity to interview for the company you always wanted, you should not make the mistake of just trying to go with the flow. It doesn't matter how talented you are, how quick-witted or learned, to excel at the interview process you need all the interview preparation tips you can find.
If you put an effort in getting the beat of the job interview right, it will reflect in how you conduct yourself during the interview. That is why, we have compiled these 7 interview preparation tips to help you nail the interview and make a great impression.
Prim and prime your online presence
Your social media profiles should be all prim, trimmed and neat before the big job interview. Recruiters are very conscious about the people they hire for their company and how well these candidates will blend in with the current workforce.
From your LinkedIn profile to your Facebook and Twitter profiles, everything should be up-to-date and non-controversial. If you think there is something that can work against you, then delete it or make it private.
Companies generally don't appreciate very strong political alliances or religious favor. So, keep these out of sight.
Once you are done, do a simple Google search on yourself and see what all pops up and if the information needs to be edited, deleted or improved.
Also Red: Social Media Mistakes That Can Cost You Your Job
Make full use of your network
We keep advising you to expand your network and get to know more and more people from your industry. In fact, it is one of the most important interview preparation tips. And, in this article, we will tell you how your network can come in handy at this particular moment.
It is no hidden fact that people who have recommendations to back them up against, get an obvious preference during the hiring process. So, you can tap in on the network you have already built and see if any name pops up which can help you.
A letter, note or even verbal recommendation can help you immensely in getting the job. It will also allow the interviewer to see you more favorably during the interview process.
Also, you can ask these people for some tips on how the work culture is and what kind of questions to expect during the job interview.
Keep practicing
When talking about interview preparation tips it is important to stress the benefits of practicing to excel at the job interview. The fact remains that the more you practice, the better your chances of doing well during the interview.
So, ask your friends to conduct mock interviews, practice in front of the mirror and observe your body language. You can also try recording yourself during one such practice sessions to see how you sound and the body language you sport.
Obviously, Mock-AI can help you immensely here – it can do the asking, observe and give a detailed feedback report on your body language and record your interview for you to go through it and see how you performed for yourself.
With Mock-AI you can practice, learn and be encouraged to do better at the job interview.
Know your job resume
Yes, you crafted a well-toned job resume and impressed the recruiters enough to get the interview call but that is the battle only half won. Sending in your job resume is not it, you should also know the contents of your resume and be able to discuss and if needed, defend it.
If you scored low in your semester exams or have a gap in your education to the internships and projects you did – all of it.
Also Read- How to explain low grades during a fresher interview.
However, whatever you do, don't bad-mouth previous employers, teachers or colleagues. That will only portray a terrible picture of you and won't do anyone else any harm.
Know the common interview questions and answers
Our interview preparation tips would be incomplete if we don't introduce you to some common interview questions and answers. While the technical round of the interview is completely subject based and depends on the interviewer and profile, you can prepare for it by ensuring you are clear on the basics.
If you know your subject thoroughly, then the interviewer will have a hard time upsetting you with tricky interview questions. So, revise the theories and try to understand the technicality of the subject instead of just looking to mug things up.
As for the personal or HR interview, we will introduce you to some common interview questions and answers in this article –
1. Tell me about yourself
Here the interviewer is not asking you to quote your resume but prove what makes you a great candidate. So, give a brief background about what inspires you, why you choose this field, talk about your achievements and goals.
For more on this, check out – "Tell me about yourself" – Job interview question and its answer.
2. What are your strengths and weaknesses?
When talking about your weaknesses pick up an honest weakness and talk about how you are trying to overcome/fight it. The interviewer will a) appreciate your honesty b) view you with respect for giving your best in overcoming that weakness.
As for your strengths, don't come across as cocky. The interviewer basically wants to see what are the qualities you value. However, don't bombard him with a long list of your strengths.
For more, check out – How to answer "What are your strengths and weaknesses"
3. What motivates you?
Of all the interview preparation tips, the most important one that you should remember is that the interviewer only wants to know things which can add to your candidature and make you come across as a great candidate.
So, when answering common interview questions, you need to frame your answer accordingly.
When the interviewer asks you what motivates you then they want to see how your answer can be profitable to the organization. So, be confident but relevant in your answer.
You can check out – Interview questions: How to answer "what motivates you" in an interview 
4. Why should we hire you?
A classic interview question, it remains a favorite with the interviewer.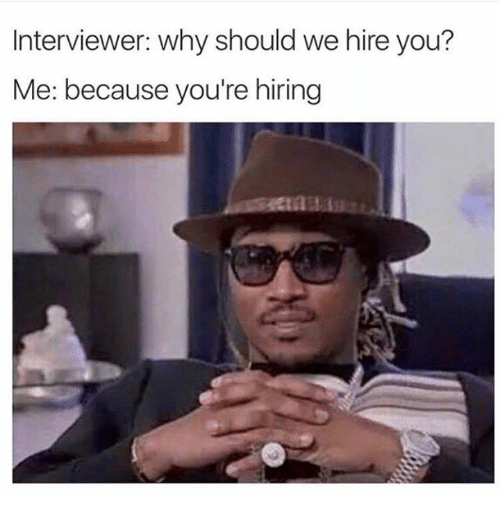 Now such a meme looks great on social media but it should not make to your answer. Keep your personal life and how much you need the job out of the equation. Instead, focus on what makes you the right candidate.
Take cues from the job description provided by the company to understand their requirements and bend your answer according to it.
Also, read – Common interview questions: How to answer "why should we hire you?"
5. Do you have any questions for me?
Nod in affirmative. Never, ever let go of this opportunity and do ask questions in return. An interview is now viewed less like a formal interview where only one person asks questions but more as a discussion.
So, keep some questions in handy that you can ask the interviewer.
For ideas, read – 10 questions you should ask the interviewer during a job interview.
Dress up for the job
You might have heard the saying 'dress up for the job you want.' Which in this case is the job you are applying for! So, dress up accordingly. Wear well-tailored clothes and go for muted colours. Do away with accessories which might distract the interview.
Pay attention to the footwear you are wearing – flip-flops, dirty shoes, are a huge NO.
An important interview tip to remember is that simple and neat is usually the best and the safest option. However, you should always know how to dress to impress on a job interview.
So, keep these interview preparation tips in mind to excel at the interview process. And, if you still have any doubts, then you know that MockAI is your best bet to excel in your job interviews. Register for Mock AI here.