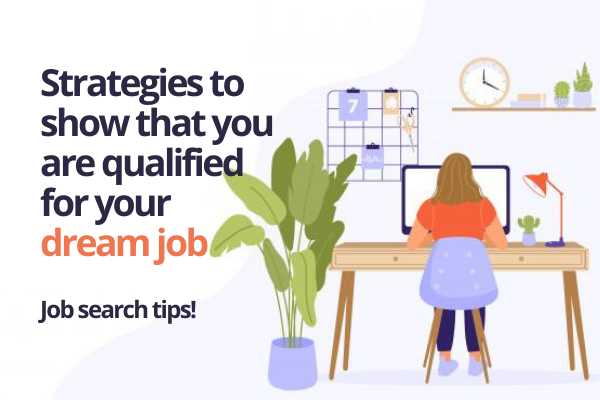 In your search for your dream job, the job search wisdom says that you shouldn't send off your job applications for the openings you are not qualified for. However, in various job opportunities, sometimes the requirement might go beyond your reach but still achievable if you work hard to upskill yourself and increase your chances of getting your dream job.
So, even if you are under-qualified for job to get that dream job, there are stills various ways to boost your candidature into your dream job.
And for that, here are a few under-qualified job tips to help you create a job-seeking persona that will help you kickstart your career with a bang.
Find out what you want to do
To kickstart your search for your dream job, you need to understand what your goal is and how do you plan to achieve it, especially if your ideal job is a niche profile.
So, to speed up your job search you need to set a gameplan and understand the present job market because just winging it won't get you far. Having a clear plan will help you shortlists and companies of your interest.
Moreover, it will help you take your first step towards creating the perfect job applications which will increase your chances of starting your career with your dream job.
Go through the job requirement
The purpose of a job description is to give you starting points to build up your job search, it is nowhere an ironclad list of requirements that you have to fulfil.
Although some things on the job descriptions might be non-negotiable but other things might not be as long as you have the equivalent skillset.
For instance, if you are applying for a content writer job, then as long as you have the skills to weave your thoughts into words, the subject of your Bachelor's degree won't matter.
However, make sure you highlight your qualities and skills that you do have to back your candidature up.
Make meaningful connections
You need to invest both time and effort into making meaningful connections on LinkedIn. Knowing people whose experience and professional kinship can help boost your faceless applicant is the advantage that you need to make a cut in the selection process.
Moreover, having someone to vouch for your job applications can make your job search process easier. With LinkedIn, you can have professional individuals to endorse your skills which will immensely help you in getting your dream job.
However, just making a LinkedIn profile and connecting with your peers, colleagues and recruiters is not enough. In order to actually take your job search to new heights, you need to keep your profile updated and your connections fresher.
Start working on your job resume
Through the job description and connections, you might have gotten an idea about what exactly the recruiter is looking for in the ideal candidate. Now, all you need to do is make sure that your job resume and cover letter are hitting all the right key notes.
Carefully proofread your job resume and cover letter to make sure you are highlighting your experience, educational qualification and skills. Moreover, make sure the important keywords are spelt and used correctly.
Your job resume and cover letter should be hitting as many high-priority key points from the job description as possible to get past this round of the hiring process.
Sharpen your interviewing skills
To get closer to your dream job, you need to clear a series of interview rounds and for that, you need to give your 100% when preparing for the virtual interviews.
Moreover, the recruiter is also going to see how you will conduct the interview as they are looking for candidates who can effectively work from home. So, make sure you give as many mock exams as possible at home.
You can take the help of Mock-AI to give mock job interviews from your home and use the feedback report to find out the areas where you are lacking.
To get under-qualified dream jobs, instead of writing off your chances of getting your ideal job as a lost cause. With the right skillsets and job readiness, no dream job is out of your reach.
Moreover, while sitting at home, you can also complete certification courses that are demand and learn more about your dream job and the industry. This will help you create a better job resume, cover letter and improve your performance in interviews.
So. pull up your socks and start preparing for dream opportunities that are coming your way.