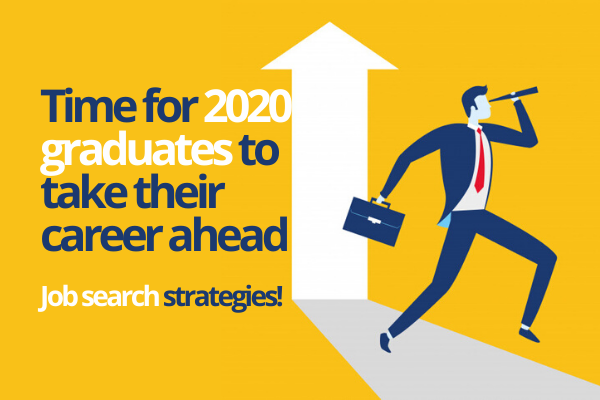 The current headlines might have made you feel disconsolate about your chances of getting 2020 graduates jobs. And, it is hard to stay positive during the coronavirus pandemic but there are still ample opportunities available for 2020 graduates in the job market.
The journey to securing a job opportunity during the COVID-19 pandemic is going to be difficult but with the right preparation, you can successfully start your career in your dream company.
That is why to help you improve your chances of employment, here are the top job hunting tips for new graduates to get a job during this unprecedented time.
Find Out Job Profiles In Demand
The step for 2020 graduates to find a job during the coronavirus pandemic is to study the job market and learn about the job profiles that are in demand.
For instance, job profiles like Cybersecurity specialists, Digital marketer, Business development executives, Cloud engineer and Data Analysts are in huge demand.
Having a sound knowledge of the job market will help you create targeted job applications to get shortlisted for the job roles of your interest.
Moreover, your focus should be on the quality of your job application and not the quantity. Avoid spreading yourself too thin by applying to all job openings that you see on the online job portals.
Make A Profile On LinkedIn
To increase the horizons of your job search, you need to connect with the outside world. And for that, you need to make a profile on LinkedIn, if you haven't already.
Through LinkedIn, you can make connections with your peers, colleagues and recruiters which will take off hours from your job search. This will further help you understand the company's policies and the kind of work culture they promote.
In addition to that, people can endorse your skills on LinkedIn, which will strengthen your candidature even more. So, don't forget to create a LinkedIn account and keep on updating it regularly.
Do Certification Courses
The best way to utilise the coronavirus pandemic lockdown is by completing certification courses and upskilling yourself. Recent certifications on your candidature can strengthen your profile increasing its credibility.
So, keep learning new things at home and improve your skillsets by giving them the validation of relevant certification courses. There are plenty of free certification courses available online for you to kickstart your learning.
For instance, you will get free access to one of the AMCAT certification courses of your choice, when you book the AMCAT exam.
Read The Job Description Carefully
Before you apply for any 2020 graduates job openings, make sure you read the job description carefully. On the basis of the job description, you should customise your job search.
In your job resume and cover letter, you should highlight the skills that the recruiter has mentioned in the job description. Moreover, to make your job search more targeted, you can borrow some keywords from the job description and use them in your job resume, cover letter and interview answers.
This will show the recruiter that you have done your homework and are serious about this job opening which will take your profile to the next round of hiring.
Start Working On Your Job Resume
Once you have gone through the job description, you should start working on your job resume to make it profile targeted. Don't make the mistake of sending the same job resume for different job profiles.
An ideal job resume should highlight your skills, internships (if any), extra-curricular activities and educational qualifications. Make sure all the information on your resume should be legit and in bullet points.
In addition to that, there should not be any grammatical or spelling errors in your resume. So, proofread it before sending it off to the hiring manager.
You can also take help of professional tools like Resume Buddy to make the perfect job resume within minutes.
Personalized Cover Letter
To further strengthen your profile, you should attach a cover letter with your job resume. When working on your cover letter, emphasise on your skills and how you gained different skill sets throughout your college years.
In addition to that, a cover letter is a short synopsis of your achievements, so your goal should be to explain more in fewer words. Follow a formal and respectful tone, and maintain a balance between professionalism and creativity to make your application stand out from the crowd.
Virtual Interview
Due to the COVID-19 pandemic, face-to-face interviews are replaced by virtual interviews. So, one of the best ways for 2020 graduates to get a job is by giving mock interviews at home. You can either take the help of your friends or family members to conduct interviews at home.
You can also take the help of Mock-AI to practice interviewing at home and get detailed feedback on your interviewing skills. The feedback report will be helpful for you to work on the areas where you lack.
Moreover, to build up your confidence and fluency, you should start making answers to common interview questions. This will help you present a positive image in front of the recruiter.
Correct Body Language
From the moment you step into the interview building, try to be confident, polite and positive. When in front of the recruiter, sit or stand straight with your shoulders back, don't make the mistake of slouching.
Before answering any interview questions, take a deep breath, don't overthink and encourage self-confidence. Moreover, have a firm handshake, look at the person in the eye and smile. Try to keep the interview light, positive, and constructive.
In addition to that, your outfit for the interview should be professional with an ironed shirt, dress pants and polished shoes. Don't wear excessive make-up or jewellery.
Follow-Up With The Recruiter
Hundreds of candidates are shortlisted for a single job opening. So, it is important for you to stand out from the crowd. And, one of the best ways to highlight your candidature is by sending a thank-you mail to the interviewer.
Once you are through with the interview, you should thank the recruiter and the interviews for the job opportunity. Moreover, convey to the hiring manager that you are looking forward to their reply.
Above all, sending a follow-up will give you a chance to reiterate why you are the ideal candidate for the job and will help you rectify any errors that you made in the interview.
Stay Positive
Looking for 2020 graduates opportunities is full of uncertainty and fear. So, there will be times when you might not hear back from the recruiter or get a rejection email. But your true strength lies in your never giving up attitude.
So, don't lose hope in your job search, continue working on your skills and learn from your mistakes. In fact, making mistakes will help you identify the areas where you lack and will help you in the long run.
Now, these are the top 10 job tips for 2020 graduates to get a job during the coronavirus pandemic. Don't let the lockdown come between you and your dream job. Incorporate all these tricks when starting your job search and make sure you make no mistakes because any silly error can put your job search on hold.
So, keep your head up and put your best foot forward.
All the best!