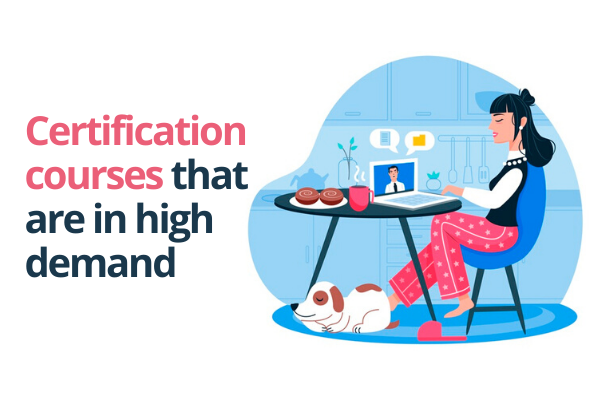 COVID-19 pandemic continues to roadblock the operations of almost all the organizations in the world. With things going down the spiral, the recruitments have either stopped or have gone online. The hiring managers are still on a lookout for potential candidates. They are using AMCAT to shortlist potential candidates based on their AMCAT score. Moreover, online software like Hangout, Skype, and Zoom are also helping recruiters in recruiting ideal candidates. Meaning you don't need to worry about your job search because companies are still hiring.
So, this is your gold chance to improve your chances of getting the job of your dreams by finishing certifications that are in high demand. And, to help you make an informed decision, here is a list of certifications that are in demand.
Cybersecurity
On a day-to-day basis, all the companies are using online tools to operate and stay connected. The increased dependence on software has also increased the threat of hacking and cyber theft. Cybercrime is one of the biggest threats to the security of users all over the world, especially during COVID-19.
The demand for cybersecurity has increased tenfolds. So, use this opportunity to upskill yourself by completing courses on cybersecurity.
Digital Marketing
Digital marketing is on a boom during the COVID-19 induced lockdown because companies are using social media platforms to market their products and services. So, this is the right time for you to develop and hone digital marketing skills by completing relevant certification and putting them on your resume.
Moreover, job opportunities in this sector will increase in the future. So, having validated skills will make your job search easier.
Python Programming
Python is one of the most loved programming languages and is in high demand. It is easy to master, effective, and favoured language for people working in the field of data analysis. During the COVID-19 pandemic, there has been an increase in the usage of data and artificial intelligence. So, the demand for data scientists, analysts, and profiles in AI is an all-time high.
Hence, doing certification in python programming from an accredited site will open rooms full of opportunities for you.
SEO Certification
During the lockdown, more and more people are online, reading, and analyzing content. Having an SEO certification under your belt will make you the ideal person to write online content for websites and other marketing content.
Moreover, an SEO certification will show the recruiter that you have the skills to pull web traffic towards your content, promoting your goods and services. Sharpen the edges of your job search by putting this certification on your resume.
Cloud Programming
Every day, more and more data is uploaded on the cloud to analyze and interpret. However, due to the pandemic, the demand for cloud space is higher than the supply. To meet this high-level demand, recruiters are on a lookout for cloud programmers. Having certification will make you stand out and strengthen your candidature
These are the top-5 certification courses that you can pursue during the period of lockdown and upgrade your skillsets. Moreover, many companies are giving free access to some of their top certifications. For instance, if you book the AMCAT exam, then you will get free access to one of the AMCAT certifications of your choice.
So, don't waste away this time and use it to take your job search by a notch.
Best of luck!