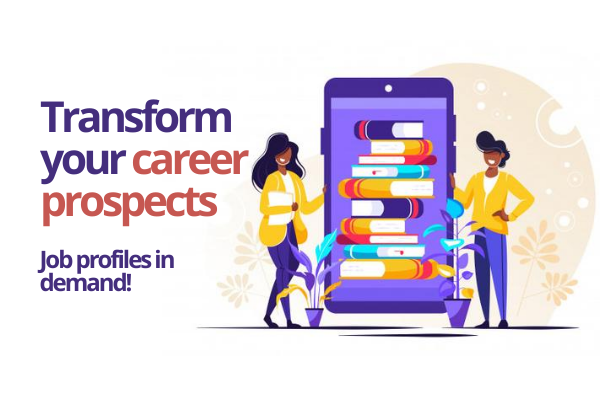 The coronavirus pandemic forced the 2020 graduates to cut their college opportunities short, give up-graduation ceremony and start their career in the pandemic driven job market. Many of the 2020 graduates are looking for job openings in their area of interest.
However, as uncertain as the present circumstances are, all is not lost. You should not put your job search on hold due to the COVID-19 outbreak because companies are still hiring.
So, to make the most of out these tiring times, you should know the kind of graduate jobs 2020 available. For that, we have curated a list of latest
graduate jobs 2020
that are in demand.
1. Cloud Architect
The global pandemic has made us learnt new ways to learn, help and operate. And, to make it all work seamlessly, cloud computing plays a crucial role in making businesses quickly take actions to respond to the present crisis.
The career prospects in the field of cloud computing for 2020 graduates is bright. So, job profiles like Cloud Architect, Cloud Programmer and Cloud Engineer is in huge demand and will continue to be in demand after the lockdown.
2. Business Analysts/ Data Analysts
Data is the currency of the corporate world and all the important decisions are based on it. So, the job prospects in this field of data are in huge demand.
The world of data is multidisciplinary and you need to well versed in using scientific processes, machine languages and various systems to make important decisions.
3. Online Marketing Specialists
Digital marketing is on a rise, all thanks to the coronavirus pandemic. Almost all the companies are trying to build their brand image on social media platforms like Facebook, Instagram, Twitter and LinkedIn.
Moreover, thanks to the internet, having a social presence is the need of the hour. So, the demand for online marketing specialists is in huge demand. There are plenty of online certifications courses on digital marketing available of you. Having relevant certifications will help you build up your marketing skills and will further increase your credibility.
4. Content Writer
If you have the power to weave thoughts into words, then content job prospects are just the right thing for you. There are plenty of job opportunities available for 2020 graduates in this field of work So, start brushing up your basics and make a career as a content writer.
5. Information Security Specialists
Companies upload all their important data on the cloud and to safeguard it from hackers and malware, the demand for information security specialists is increasing.
Moreover, companies are trying to improve the security of their digital infrastructure as they continue to operate remotely. And if you are interested in this line of work and want to show the recruiter how skilled you are, then you should opt for AMCAT. In the AMCAT exam, you can choose modules like Automata and Computer science specialisation to quantify your skills.
6. Business Development Executive
Pandemic or no pandemic, companies still need people to pitch and sell their goods and services. This makes it one of the top job profiles in India.
So, if you want to start your career as a Business Development Executive, you need to sharpen your communication and interpersonal skills.
Job prospects are changing fast and you are applying to jobs that weren't even there a decade ago. And, with constant technological advancement and COVID-19 changing how companies are operating, several job profiles will be in higher demand than a few others.
Moreover, sectors like Healthcare, pharmaceuticals, grocery and  IT will most likely call for additional workforce due to high demand. Due to such high demand, these sectors are looking for people with the ability to transfer their core skills into new domains. So, focus on acquiring IT skills as well as the ability to work remotely due to coronavirus.
And, the best way to gain the required skills is by completing relevant certifications. Many companies are giving their certification for free. So, make use of these resources and sharpen your job search
Now, this was everything that you need to know about the job prospects for the jobs for graduates. So, rather than wasting your time, it is better to improve your job search strategies and to be prepared for the future