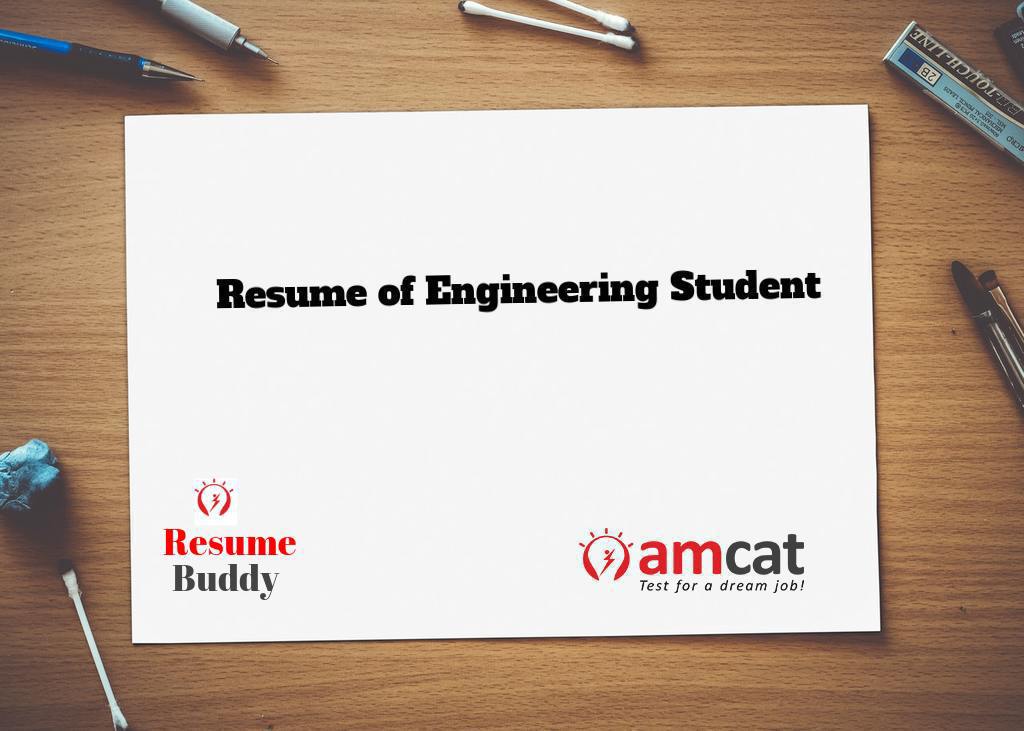 The resume of engineering student does not need a unique format or anything fancy. The key to a good engineering resume is making sure it conveys your technical expertise.
Engineers are expected to be analytical, meticulous, number-crunchers, technical and focused. All these attributes need to be reflected in the resume of engineering student if they wish to be selected for an engineering job.
Here is a list of resume tips for engineers to make any resume format into an engineering resume format and create a useful and attractive resume –
Check all the regular resume hygiene factors – Whether you are an engineering student or not, you need to ensure that the basic hygiene of a resume is maintained, here is the bare minimum that you need to provide –
Use the right language and keywords that are related to your degree
Ensure you are using correct grammar and avoid spelling mistakes
Write accurate contact details and use appropriate emails and social media handles
Leave out white space to make it easy to read for the recruiter
Keep it one page and cover all the information in sections and bullet points
"If you are unsure of all these above points and need a readymade engineering resume format, then pick one out of the 25+ templates on Resume Buddy. The tool will take care of covering all these factors and give you a great looking resume."
Include numbers and facts – The resume of engineering student needs to stand out with numbers and achievements. You are not a literature or art student to write verbal sentences about your accomplishments. You need to showcase your analytical side and convince the recruiter about how your mind works. Engineers are expected to think of performance in numbers, and by including numbers wherever possible, you will convey this to them.
Elaborate details of education – One of the most common resume tips for engineers is to focus on the academic qualifications. Engineers are expected to learn the basics from their college education so that future employers can then train them for other complicated tasks. Recruiters want to see marks and academic accomplishments in a resume of engineering student.
"It is also advisable to include subjects that you learned in college, and many colleges offer upcoming subjects like AI, Machine Learning, etc. which other colleges don't offer. It is in your favor to include these in your engineering resume and attract the attention of the recruiter."
Details of Certifications and skills – As modern engineers, you are expected to stay up to date with the latest technology trends, and the resume of engineering student should reflect this. Ensure you have a list of certifications you have done in various subjects like analytics, research, coding, etc. These can be online certifications as well, and you don't have to visit an offline centre to learn how to code. Every skill that you mention in the engineering resume format should be attached with a certificate.
Include project details – A highlight of the resume of engineering student is the project they undertake in the final year. It shows to the recruiter which field interests you and how did you approach the project. Make sure to include as many details as you can in this section. One of the resume tips for engineers is to be as elaborate as possible about the projects undertaken. Don't miss out on any critical details.
"And if you have any other projects you did on the side, include those as well. They hold more value for a recruiter as it shows you went beyond your responsibility and took the initiative to learn something new. Recruiters love this kind of initiative in engineering students."
Internship details – A standard section in a resume for engineering student is the internship section. Almost all colleges in India have a compulsory internship project for students however not many take it seriously. Whether you have taken it seriously or not, ensure you write about it well and include details that will make you stand out. Recruiters value real-life experience and industry exposure more than the marks you got in college!
Make sure you include all these tips in your engineering resume format to create an impressive fresher resume of engineering student. Remember that you can always subscribe to Resume Buddy and easily create an impeccable resume for yourself.
And if you have any doubts about these, comment below, and we will reply.