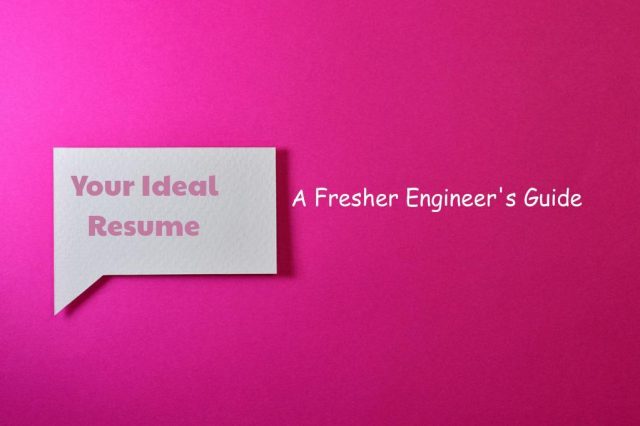 As freshers, sometimes it can be difficult to determine what you should put on your job resume and what you should exclude.
However, the key to an ideal resume for engineering freshers includes using not just the right keywords but also paying a lot of attention to the technical skills you possess.
Focusing on the technical skills
Engineering jobs are less about how much you scored in your semester exam and more about the skills you possess. Adding your technical skills in the middle of the job resume will surely get you the right attention.
The middle section of the job resume is what the recruiter notices first. Therefore, the ideal resume for engineering freshers should make the most of this section and give the recruiter what they desire to see the most – your skills.
However, instead of writing paragraphs or long sentences, try to give information in points. If you want, you can also break your technical skills or knowledge into sub-sections to make it easier to read.
Emphasize your goals
Companies want to know what you have done in the past but they also want to know what more you can do.
How you plan to expand your potential is something that is really important for any organization. They also want to see whether your goals are in sync with the requirements of the job profile or not.
Also, your goals say a lot about you and what you are willing to do and learn.
Talk about your achievements and experiences
You should dedicate one section to your achievements. However, don't try to go too far back in search of achievements.
If you don't think there is anything relevant here then leave it. Instead, focus on the things you achieved in your internship/s and projects.
Talk about how you helped the company and mention your performance and initiatives that actually benefitted the company. You can also add the projects you did while in college or any apprenticeship.
Write all this information in a tabular form with the latest information coming first and so on. Create three columns, one for the role you were in, the company you worked for and the time period for which you were there.
Incorporate the right keywords
Using the right keywords can really make your job resume stand out. Any ideal resume for engineering freshers should have the right keywords distributed all over. However, ensure that you don't overdo it.
To search the keywords that will really work for your profile, you can check out the job description of various companies for the profile you are interested in or are applying for.
You can also check the LinkedIn account of other successful candidates and see which keywords they have focused on.
Pick three to four such keywords and use each keyword a maximum of two times throughout the resume.
Avoid padding your resume
You might think a job resume that extends over two to three pages is attractive, however, that is the opposite of the truth. Recruiters don't encourage a lengthy resume and prefer resumes that say the most in the least number of words.
As such, you should avoid padding your text to make your resume appear longer. This will, a) lose the attention of the recruiter, and b) undermine the relevant points in your resume.
Also Read: 4 Points Recruiters Take Note Of In Your Job Resume You Didn't Know
The ideal resume for engineering freshers should also be error-free, that is, no silly grammatical mistakes or fault in the reverse chronological order. So, proofread your resume before sending it through.
And, ensure that your resume is focused, in sync with the profile you are applying for, and is ready to impress the recruiter.
If you are unsure of how to go about it and incorporating all the points seem a little tough for you, then opt for online resume building applications like Resume Buddy. With Resume Buddy you can create an ideal resume in minimal time.