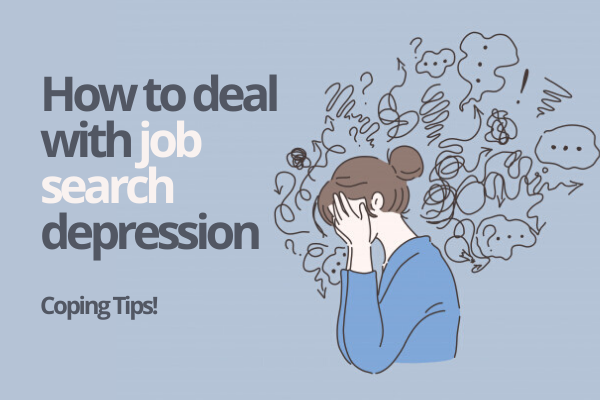 Job search depression true because searching for a job is one of the most thankless, tiring and depressing journeys that every job-seeker has to undergo. And, having no luck can make anyone feel demoralized.
Coming out from this dark space isn't as easy as hitting the road and sending out job resumes. Even the candidates with huge potential aren't guaranteed success, which further increases the uncertainty of not knowing when you will get your dream job.
Filling out applications, customising job resumes, giving mock interviews and handling rejections can leave you feeling unwanted, dejected and sad.
Considering all this, it is easy to understand why some job seekers end up feeling depressed. And, if you ever find yourself in this situation, consider seeking professional help. This will help you get valuable insights into your situation and how to overcome it.
Other than counselling, we have gathered a few other ways to help you to learn how to job search when depressed.
Create A Game Plan
One of the best ways to stay motivated is when you have a plan to achieve both your short-term and long-term goals. Every day, try to set up goals for yourself – like redrafting your job resume, practise answering common interview questions and answers or apply for certain job roles.
Making a plan should be your first step in staying motivated, focused and ready for when interview calls start coming.
Be Patient
You need to have patience with the job search process and make sure your expectations are realistic. Keep a calendar to stay organised and to strike a balance between timely follow-up and constant pestering.
A successful job search takes focus, persistence and a lot of hard work. However, that doesn't mean that you have to overwhelm yourself with work.
Most importantly, try to stay emotionally healthy by being positive and patient.
Take A Break
Continuously searching for a job can make you both mentally and physically tired. So, take some time out of your daily activities and do things that promote relaxation and personal well-being.
For instance, play your favourite video game, take a hot shower, read a good book or take a walk around your neighbourhood.
Doing all this can help restore your energy and optimism for your job hunt and make you have a positive perspective.
Continue Building Your Skills
One of the biggest reasons why a drawn-out job hunt is so depressing is the feeling that you are not making any progress or doing anything worthwhile.
And, to combat these feelings, you should use the time to sharpen your skill sets by taking up online courses to give validation to your skills and increasing credibility.
Doing this can make a huge difference in your perspective. Moreover, learning new skills will help you quickly land a job in one of your dream companies.
Think Of Volunteering Or Internship
Developing skills and creating connections doesn't always have to be purely job-specific. You can often achieve the same results by taking up volunteering work. So, go online and find out a cause that you are passionate about and help you improve your interpersonal skills.
Moreover, if you are unable to find full-time employment, you should simultaneously start looking for internship opportunities. Working as an Intern will be a learning experience for you and will do wonders for your candidature. In fact, if you are good at what you are doing, then they might turn you into a full-time employee.
These are the 5 tips to help you fight against job search depression. Due to the coronavirus pandemic, you have time to explore other interests and passions. Doing this will help you against job search anxiety but once you do land a job, it will ensure that your worth is not related to your job.
So, try to not get overwhelmed by the job search. Be proactive, motivated and positive.