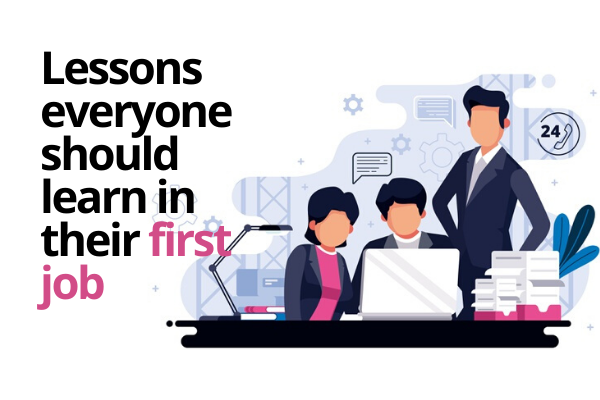 Congratulations on your first job and get ready to enter the workforce for the first time.  Joining the professional world during the pandemic is going to be as exciting as it will be terrifying. Most of us start our career at a very young age and the realisation that we will spend most of our lives working is not an easy thing to accept.
Your first job experience, no matter how ridiculous, is going to stay with you. It is going to teach your life lessons, which you could never learn elsewhere.
In fact, your first experience working is going to shape the person you will become later in your professional lives. And, no matter how far along you are in your career, you can always look back to your first job and find important lessons of wisdom to help you become a better leader.
Working during these trying times is going to help you learn important life lessons that will help you in future.
Getting Hired Is Only The First Step
Landing your dream job is only the beginning. You are still far from knowing how to perform the job. And most importantly, you need to immerse yourself in the culture of your new office.
It is going to take time and effort to get on even footing with your new co-workers. Find your strengths in the workplace and what kind of skills you offer to make yourself a truly valuable piece of the puzzle.
Learn From Your Mistakes
It is natural to make mistakes when tackling your first job. That is what the "learning curve' is all about, and learning is a lifelong process.
You are going to make a few slip-ups once in a while, it is part of human nature but not learning from your mistakes will not help you become a great leader.
And, most importantly, never hold on to your mistakes, learn from them and move on. Dreading them or walking on eggshells all day to avoid them is not going to help you in your future endeavours.
Stay Two Steps Ahead
To get success at your workplace, you need to distinguish yourself from the rest. And, one of the quickest ways is to take initiative. Don't wait around to be told what to do; don't make assumptions on your own.
So, if you are given the chance to jump on the next thing that needs to be done, without being instructed to do so, will be rewarding for you and your career.
An Eye For Details
When you start working, you are expected to think about the bigger picture. You make decisions, set long-term goals and create work strategies.
You are no longer in a position where your lecturer will forgive typos or grammatical errors. In the beginning, you won't have the chance to do anything really important, so how you deal with small tasks will be noticed.
All this will help you develop an eye for details and will increase your accuracy.
Keep On Learning
The corporate world is constantly changing and the main aim of your first job is to teach you new things and innovative ways to do them.
The key here is to keep learning and developing new skills relevant to your job profile. Moreover, never be hesitant to ask questions to your manager or clear your doubts.
In fact, the more questions you ask, the more doubts are cleared and fewer mistakes you will make.
Your first job is your stepping stone into the corporate world. And, these little lessons will help you grow into a better person and an even better leader.
So, find your strengths and skills that make you truly valuable and come out of this pandemic stronger than ever.