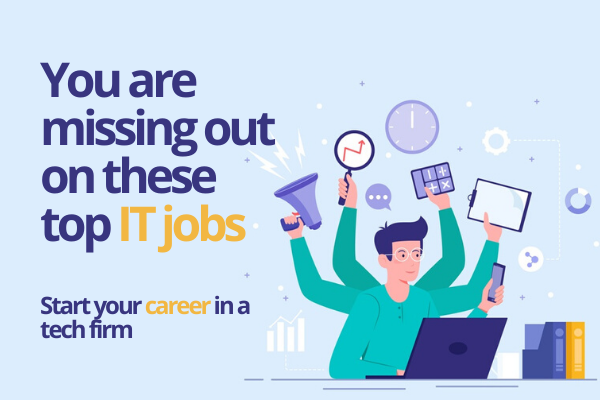 With social distancing policies still in place across the country, many IT companies are virtually hiring during the coronavirus. With recruiters looking for candidates who can work from home effectively, the job search is going to get tougher.
Hiring managers are taking the help of tools like AMCAT to shortlist potential candidates to interview them virtually. They are using conferencing and video software like Skype, Google Meet and Zoom to stay connected with candidates during these trying times.
Professional social platforms like LinkedIn are helping candidates connect with recruiters to find out current IT jobs opening and job roles that are in high demand. Making meaningful connections will help job seekers like you to find out more about skills that are in demand. This will give you a chance to hone and develop your skills during this coronavirus pandemic driven lockdown.
So, to have a successful job search by developing a new skill set, here are the top 5 IT jobs during Covid-19.
Cybersecurity 
Due to the coronavirus pandemic, companies have switched to remote working. And, they are trying to improve the security of their digital infrastructure.
That is why there is an increased demand for cybersecurity roles. In fact, the nature of tech security is likely to change during the pandemic. Earlier it was restricted to just antivirus or anti-malware solutions but now it is radically different considering the work-from-home models.
Digital Marketing
More and more people are consuming content online on the internet. Digital Marketing has become an essential part of CMOs as they want to drive greater ROI with reduced marketing spending.
This is resulting in greater demand for digital brand managers, content and SEO experts, CRM and email marketing specialists.
Cloud Programming
Companies are operating on public/hybrid deployment. They are using tools like Microsoft Azure and Google Cloud to upload data to analyse and interpret it.
As a result, many businesses are heavily investing in IT and cloud resources. So, if you have the skills to drive technical architecture and analyse data, then IT jobs in the cloud programming domain is your true calling.
Artificial Intelligence
Even before the coronavirus pandemic, Artificial Intelligence was already a hit and now, it is ever more in demand, all thanks to remote working.
Hiring managers are looking for candidates with skills in AI, machine learning and computer languages to deliver innovative goods and services. And, if you have the skills to customise products, then that is an added advantage.
Business Analysts
The COVID-19 outbreak has forced a large chunk of people to work from home. Businesses are focusing on digital channels to become increasingly mainstream across sectors such as education, healthcare, retail and more.
Now, because the demand for digital is increasing, it is resulting in greater demand for Business Analysts.
So, if you have a knack to develop technical solutions to business problems, advance a company's sales efforts by analyzing, then this IT job is made for you.
The COVID-19 pandemic has helped demonstrate the power of technologies such as cloud, exposed cybersecurity risks, helped businesses digitalise and use data to analyze their growth. And, if you are interested in any of these IT jobs in Demand During COVID-19, then start completing relevant certification courses.
There are plenty of free certification courses to help you validate your skills and increase your credibility. So, start exploring online courses to give your job search an edge over others.