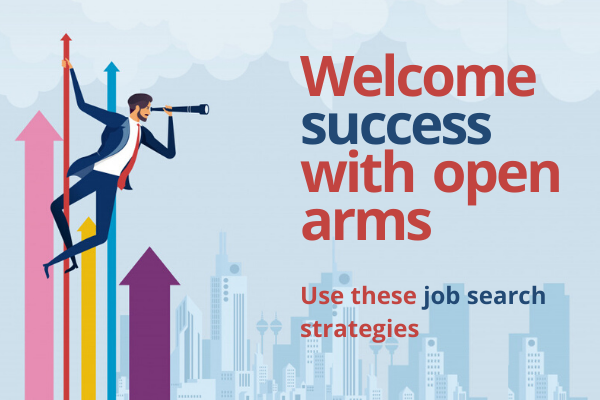 Are you a fresher who is looking for your first job? There are plenty of opportunities for you in the market but landing your dream job maybe not be a piece of cake. Job searching isn't about applying for all the jobs that you see on the job portals and hoping to get an interview call. Just putting in an application and hoping to land a job in today's competitive job-market is next to impossible.
To have a successful job search, you need to utilize some strategies and establish a social network that will help you stand out from the crowd. So, try these strategies to expedite your job search, find the right job, get your resume noticed, and turn your interview call into an offer letter.
Goals And Aspirations
Having a clear vision of your goals will make your job search experience breezy. It will help you decide on the area where you want to work and the kind of job roles you want. However, one thing you need to make sure is that your goals are attainable and realistic.
Knowing your goals will help you start working towards them. The easiest way to show the recruiter how serious you are towards achieving your goals is by taking up certifications. You can also, use your AMCAT score to should the recruiter how polished your skills are. Plus, having a good academic track record is also an added advantage
Create A Customize Job Resume
Once you are clear about your goals, you should start working on your job resume. You only have 6 seconds to make the right impression on the hiring managers. So, don't write long-winded paragraphs to lengthen your job resume. It is natural for a freshers' resume to be shorter than that of an experienced candidate. You can replace paragraphs with bullet points to make it easier for the recruiter to skim through it.
The days when the same resume worked for different types of job roles are gone. You are one of the thousands who have applied for this job opening. So, if you want to set your resume apart, then you need to grab the attention of the hiring manager by using keywords and highlighting relevant skills. In addition, to give your resume a clean and professional look, you need to pay extra attention to the resume format.
If you are unsure about how to write an impeccable job resume, then it is wise to go for a professional resume writing service. One of the best resume writing services is Resume Buddy, which will help you highlight your skills, even when you have little or no professional experience.
Build Your Social Network
Platforms like LinkedIn are gaining more and more popularity because companies are using these social platforms to connect with potential candidates. So, it is important to have an online presence and even more crucial to curate it.
Connect with everyone you know, because you never know which contact might help you find your dream job. Talk to recruiters of different companies and try to find out more about their recruitment process and the kind of skills they are looking for.
Interview Preparation
Your job interview is what is going to get you a job offer or not. Start preparing for the job interview as soon as you have applied for the job openings. Due to the COVID-19 pandemic, the hiring managers have shifted to virtual job interviews. The preparation for virtual job interviews is the same as the face-to-face job interviews.
So, take your time to prepare, research the company, and dress suitably, even though the interview is online. Most importantly, practise answering common interview questions and make a genuine effort to impress the interviewer with your skills, confidence, and expertise.
Follow-Up With The Hiring Managers
Not many candidates do this but it is really important to follow-up after the job interview by thanking the hiring managers and the interviewer. You can use this opportunity to reiterate why you are the best candidate for the position. Moreover, if you fumbled when answering an interview question, then you can use your thank-you note to clarify it.
If you fail to get the job, then don't lose hope. You can ask the manager about an internship opportunity. This can be a learning experience that can strengthen your resume, and you might even end up getting a full-time job offer.
Searching for a new job is hard at any point in your career, but as a fresher, it can be extra stressful. However, if things don't work out in your favour, then don't get discouraged. Use this as a stepping stone and continue your job search.
All the best!