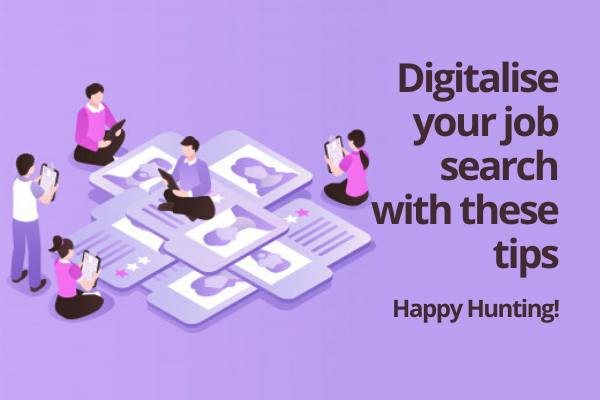 Searcing and applying for jobs is nothing like it used to be before the Coronavirus pandemic. Now, nearly all job search communications happen electronically, over the mails or through conferencing tools. Since the recruiter will most likely not interact with you face-to-face until you are shortlisted for the virtual interview, the paperwork, and the way you follow up, must be on point.
So, from applying to jobs to following up with the hiring managers after the interview, here is everything you need to know about how to digitalise your job hunting in this day and age.
Shortlist job profiles you are interested in
The first step towards a successful job search for freshers is to apply for job openings that are relevant to your profile. Narrow down your choices to companies that you want to work with and set up job alerts so that you don't miss any opportunities.
You can also google search the role you are interested in and it will pull up just about every company, city and state that has opportunities for you. This will come handy if you are still not sure whether you want a remote full-time job or contractual job.
Follow companies on social media platforms
Once you have a fair idea about the job profile and company that you are interested in, you should start following them or connect with them through social media. If you follow a company on every social media platform, then it will increase your chances of seeing job opportunities as soon as they are posted.
Moreover, recruiters are going online to look for candidates and the best way to increase your visibility is by having a professional profile on platforms like LinkedIn. LinkedIn will give you the platform you need to showcase your skills, get noteworthy recommendations and create connections will people across the globe.
ATS proof job resume
Hiring Managers are using ATS (Applicant Tracking Systems) to pick-out the relevant job resumes from the application pile. So, if you want the hiring managers to see your application, then you need to make your resume ATS proof.
There is a way for you to craft your resume to ensure it will make it past any ATS. First and foremost, make sure you have keywords related to the job position or industry on your job resume. You can use the job description as a guide to help you find out relevant keywords. Make sure there are no grammatical or spelling errors. Grammarly or Microsoft Word is not enough to find out errors in your job resume. Send it to a friend or a professional like Resume Buddy for proof-read.
Other than that, make sure your resume is easy to read and the information is in a proper format. Make it easy for the recruiter to find out what they are looking for by using a clean and organised resume format.
Start gearing up for virtual job interviews
Due to the coronavirus pandemic, recruiters are using tools like Skype, Google Meet and Zoom to conduct virtual job interviews. A virtual interview is almost like a face-to-face interview. The only major difference is that for virtual job interviews, you need to know how to use video conferencing tools. So, it is important that you know how to use these online communication platforms as the hiring managers are looking for candidates who can work from home effectively.
So, if you want to have a successful online job search, then you should perfect your virtual interview process as any technical glitch from your end can destroy your chances of getting your dream job. And, the best way to improve your interviewing skills is by giving mock interviews.
Following up with the hiring managers
Follow up with the recruiter or the interview one week after your virtual interview. After you have a job interview, it is important to follow up and thank the interviewer for their valuable time. Use your thank-you letter, email or call to highlight your relevant qualifications, show your interest in the job role and mention any important relevant information that you didn't mention.
Following up with the recruiter shows that you are serious about the job role. And, if the recruiter is contemplating between two candidates with almost identical profile, then a thank-you note can certainly give you an edge over the other candidate.
Today companies are getting more applications than ever before, all thanks to digitalisation. And while it has increased competition for you, you now also have the chance to engage the recruiter with your creativity. It may take some time for you to digitalise your job search but getting your dream jobs makes it all worthwhile.