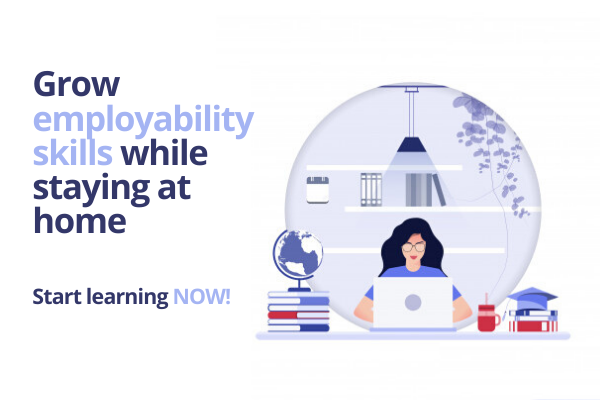 Thanks to the coronavirus pandemic, job opportunities are a little thin but there are still a variety of ways for you to put your time in the lockdown to good use. The best way for you to boost your chances of getting your dream is by building your Employability skills while staying at home.
And to help you build the right job skills, here are a few tips that will come handy when developing new in-demand skills.
Take up online courses
There is no better way to improve your employability than taking up short online courses to improve your skills. There is a range of online courses for you to start your learning. So, if you want to learn a certain software, foreign languages or brush up your soft skills then there will be a course for you.
A lot of the courses provide certification upon completion and such acknowledgement of your studies can further strengthen your candidature. Try to complete courses that are relevant to your target job as it shows the recruiter your initiative, drive and seriousness.
Learn skills in demand
One of the best ways to spend your free time is by developing new skills that are in demand. Learning these employability skills for students will open more opportunities for you in the future.
Some of the skills that are demand are cloud programming, SEO, social media marketing, content writing, video creating and cybersecurity. Try to learn these skills while staying at home to improve your chances of getting the job of your dreams.
Develop soft-skills
While you can't unstate the importance of relevant education, certifications and work experience, you also need to consider less tangible abilities like soft skills. After all, a qualified employee is someone who can work together as a team and build relationships.
Due to the coronavirus pandemic, soft skills are going to become more essential for your job search. And, if you want to survive in the professional world after the lockdown, then you should start developing soft skills.
Pick a hobby
We have all got interests that we would like to indulge in, well now you have all the time to cultivate a new hobby or interest. You can start with life skills like learning how to cook or to wash clothes.
Starting a hobby demonstrates initiates and a constant thirst to learn something new. Moreover, it will also help you occupy that ' hobbies and interest' section of your job resume or application form.
Improve your online presence
Use this period of lockdown to make your social media channels recruiter-friendly, especially if you are targeting jobs in media and digital houses. The recruiters do look at the social media channels to gauge when you are the ideal candidate for the job or not.
Create your LinkedIn profile, if you haven't already and start connecting with recruiters and employees to keep yourself up to date with the latest news and developments. Like, comment and interact with recruiters, employers and peers.
And most importantly, LinkedIn gives you space to showcase your skills, get recommendations and create connections across the globe.
Stop saying 'if only I had time, I would have done that', you have time now to do all that you want to do. Look at this lockdown as an opportunity to better yourself and your candidature by learning new things and developing employability skills to help in the long.
So, jump into your learning boat and start your voyage towards the future after the lockdown.
Best of luck!