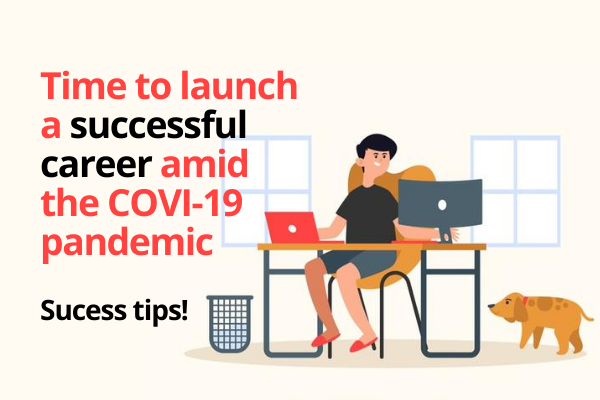 Keeping up with the coronavirus updates is becoming tiring and frustrating, especially when it is about the impact of the pandemic on the job market. And, although these coronavirus updates might make you feel demotivated but don't give up on your dream job because companies are still hiring.
Job profiles like Data analysts, content writer, software engineer, cybersecurity specialists, cloud engineer, digital marketing expert and SEO expert are in huge demand and will continue to be in demand, even after the lockdown.
Moreover, companies are using AMCAT score to shortlist potential candidates based on their skills and job readiness. So, rather than making the coronavirus the reason behind your failure, make it the reason for your successful career.
That is why to help you have success in your career, here are COVID-19 job search tips that will help you put your best foot forward.
Start Looking
As per the coronavirus updates, the impact of the pandemic is different in different industries. That means, not every industry is facing an economic slowdown and not every company within an industry slows down.
The crust is that people are getting hired even during layoffs. So, you need to identify job roles and companies that you want to work in. To make a cut in your coronavirus job search, you need to remain competitive, motivated and consistent.
This will help you make targeted job applications and will improve your chances of getting the job of your dreams. Moreover, don't spread yourself thin by applying to all sorts of job openings. Prioritise quality over quantity.
Connect With Recruiter
Almost all the recruiters are using LinkedIn to connect and hire potential candidates. So, if you want to digitalise your job search, then you must make a profile on LinkedIn and regularly update it.
Moreover, you should create connections with recruiters from different companies and learn more about the hiring process. This will help you give the right shape to your job search and hone your skillset as per the requirement.
Take-Up Certification
Online certifications are a great way for you to keep yourself updated with all the new developments. Moreover, having certifications on your resume can increase the credibility of your candidature.
According to some coronavirus updates, many companies like Oracle and TCS are giving their certification courses for free. For instance, if you book the AMCAT exam, then you will get free access to one of the AMCAT certification.
So, use this coronavirus driven lockdown to help you have a successful career in future.
Update Your Job Resume
Once you have selected the job profiles that you are interested in, connected with the recruiters and started your learning, you should also update your job resume.
Without a job resume, you can't kickstart your job search. So, start working on your resume by choosing the right resume format and writing error-free content.
Any silly mistakes in your job resume can put your job search on hold, so make sure you make no mistake. To make an impeccable job resume within minutes, you can take help of Resume Buddy. Resume Buddy houses more than 25 resume formats for you to choose from and will help you make the perfect resume.
Virtual Interview
As you might already know, thanks to coronavirus updates, the face-to-face interviews are replaced by virtual interviews. So now, you need to pull up your socks and start gearing up for this new way of interviewing.
The hiring managers are looking for candidates who can work from home without any difficulty. So, it is not just about acing your job interview, but also about how you conduct it.
That is why make sure you start preparing for your interview rounds as early as possible and leave no stone unturned. You can  take the help of Mock-AI to take your preparation to a new heights
Frequent Follow-ups
Once you are through with the interview round, you should always send a thank-you note to both the interviewer and the recruiter. Doing this will help you build a positive image in front of them
Moreover, as a candidate, it is your job to follow-up with the hiring manager and asks about the next steps in the hiring process. Be polite and persistent but don't overwhelm the recruiter.
These are 6 ways for you to use the coronavirus updates to your advantage and have a successful career ahead of you. Make sure you incorporate these learnings in your job search strategies and come out victorious.