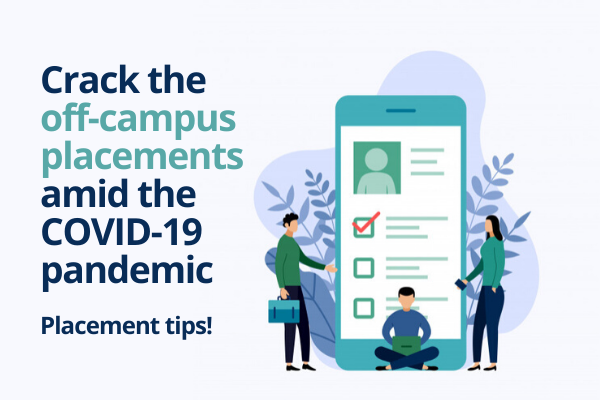 Applying for off-campus placements can open the door to a successful career. But due to the coronavirus pandemic, getting good off-campus placements is tougher than before.
However, don't lose hope because a lot of AMCATeers successfully bagged off-campus placement offers and the hiring hasn't stopped either.
So, in this blog, we will try to answer all your questions related to off-campus placement preparation and how you can fully utilise this pandemic driven lockdown to have a successful career ahead of you.
Off-campus placements during the COVID-19 pandemic
Thanks to the coronavirus pandemic, the competition for job opportunities has increased. However, there are a lot of companies in domains like Pharmaceuticals, Entertainment, FMCG and IT sectors that are still hiring candidates.
So, the current off-campus placement scenarios are looking positive. Job profiles like Data Scientist, Digital Marketer, Content Writer, Cloud Engineer and Software Engineers are in huge demand and will continue to be in demand after the lockdown.
How to prepare for off-campus placements
To make a dent in your off-campus placements job search, your candidature needs to stand out from the crowd. So, having good preparation is a must.
Shortlist job profiles
You first need to select the job profiles and companies that you are interested in and for that, you need to understand the job market.
Having a clear understanding will help you make high-quality job applications which will increase your chances of getting closer to your dream job. So, your focus should be more on the quality of your applications rather than quantity.
Make connections
This is the age of networking and it plays a very important role in getting you your dream job. So, with the help of LinkedIn, you can connect with your peers, colleagues, managers and professors.
Moreover, through LinkedIn, you can connect with recruiters in your dream company and find out more about their hiring process and the kind of candidate they are looking for.
Certification courses
Once you have gotten a fair idea about the kind of candidate that the companies are looking for, you should start working on skills. And, the best way to do that is by completing online certification courses.
Having relevant certifications on your candidature will give validation and recognition to your skills. Moreover, it will give you an edge over the other candidates.
There are plenty of free certification courses available online for you to start your learning. For instance, if you book the AMCAT exam, then you will get free access to one of the AMCAT certification courses of your choice.
Impeccable job resume
To start your job search journey, you need to create a perfectly customized job resume. Job resume is an important job search tool which will help you stand out from the rest of the candidates. So, make sure your resume is nothing less than perfect.
If you are finding it difficult to make a cutting edge job resume, then you can take the help of professional tools like Resume Buddy to create a resume within minutes.
Interview Preparation
In an off-campus placement process, you need to clear a series of hiring rounds to get the job offer. So, to get closer to your dream job, you need to start preparing for virtual interviews.
With the help of Mock-AI, you can give the mock virtual interviews from the safety of your home. Moreover, you will also get a feedback report which will help you identify the areas where you need to start working.
Although the road ahead of you is not easy but with proper guidance and practice, you will be able to ace the off-campus placement during COVID-19. So, give your 100% and stay motivated.