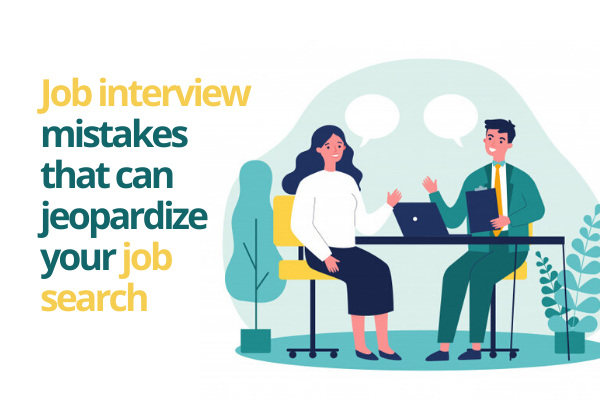 Are you wondering why you haven't been able to succeed in job interview mistakes? Waiting for an email or a call from the recruiter to know about the outcome of your job application. Thinking about why you haven't been shortlisted for the next hiring round can be the most vexing part of the job search.
It is even more disheartening when you apply for a job opening that seems perfect for you. So, it is natural for questions like why haven't I heard from the recruiter? Am I selected or not? Should I start looking out for other job openings? to house your mind and fill you with job search anxiety.
However, by spending some time analysing your mistakes in an interview, you may be able to find answers to some of these questions. And, you can use these lessons to improve your interviewing techniques to land your dream job next time.
Poor Preparation
This might be one of the biggest reasons why you are not succeeding in job interviews. Poor job interview preparation is easily noticeable in the interview. which creates a poor image of you in front of the recruiter.
Job interviews are a two-way street, the recruiters have done their homework to find you and now, it is your turn to do your homework.
Getting an interview call in this competitive sector is in itself an accomplishment but you ought to make the most out of this opportunity by preparing adequately.
In fact, practising will also help you acquire confidence, fluidity and clarity. So, start giving the mock exams at home. You can also take the help of a professional tool like Mock-AI to help you in your interview preparation by giving you a detailed feedback report on your interviewing skills.
Didn't Follow-Up With The Recruiter
The best ways to show the recruiter that you are serious about the job role is by taking the extra steps to go above and beyond what is required. Moreover, sending a follow-up email will show you as a go-getter, who doesn't cut corners or waits to be asked to do something.
You should send a thank-you email to each person you met for the job interviews. Send it at lunchtime or once you have arrived home after the interview.
In addition to that, sending a follow-up email will help you stand out from the rest of the applicants. You can also use this chance to reiterate why you are the ideal candidate for the job.
Vague Or Dishonest Answers
Giving vague or dishonest answers to interview questions can seriously jeopardize your chances of moving ahead in the selection process.
The recruiter can see right through your coined and dishonest answers. And if they don't think they can trust you, they won't hire you. So, try to keep the conversation positive and constructive.
Moreover, saying " no " is better than giving some long-winded answer. It is okay and understandable to say, "I am not sure" or "I don't know much about it" once or twice in a job interview. This much better than lying or giving long-winded answers.
So, before going for job interviews, try to make answers to some common interview questions to help you answer these questions correctly and avoid making common interview mistakes.
Unprofessional Body Language
Displaying unprofessional behaviour is another reason which is preventing you from not succeeding in job interviews. Within a fraction of a second, the recruiter is gathering their first impression by looking at your facial expression and body language.
So, dress well for the job interviews and make sure you have a confident body language throughout the interview. You should practice having good posture and maintain balanced eye-contact when talking and listening to the interviewer.
Moreover, avoid tapping your hands or feet or nail-biting or anything that might distract the interviewer and show your nervousness.
This might seem like minor unimportant details but the first impression you off yourself is just as important as the words you are saying.
You Didn't Ask Any Questions
For a recruiter, an ideal candidate is someone who is looking for specific things in their job search and has goals to achieve. So, if you want to show the recruiter that you are the ideal candidate for the job, then you need to ask the recruiter questions related to the job profile.
Otherwise, the recruiter will think that you don't really care about what type of job you end up with or you are trying to do the bare minimum to get hired.
And, this might be one of the five reasons why you are failing in job interviews. You should at least prepare two smart questions to ask the interviewer.
t is natural to make mistakes at the start of your job search. However, not learning from your mistakes might become fatal for your job search. Take the above-mentioned top 5 interview mistakes in consideration and succeed in your future job interviews.
So, keep trying because you are just one successful interview away from your dream job.