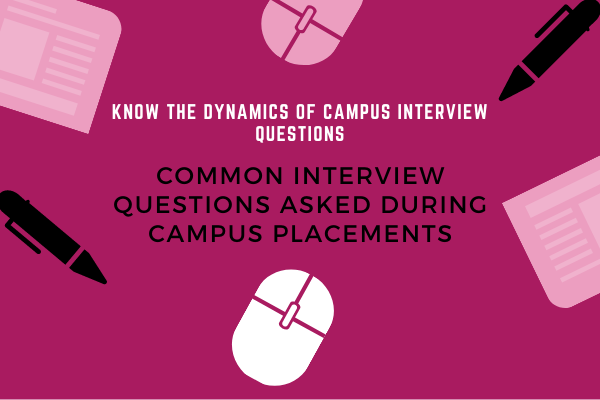 Campus Placements can be a tedious task for many youngsters if not guided well. Every year, lakhs of graduates appear for campus selection processes in the pursuit to kickstart their professional journey. However, getting the desired job in any organization involves many steps. One of the most important being, the interview round. This "one-on-one" session, with the recruiter, can make or break your chances of getting selected.
After the unexpected coronavirus pandemic, students' job interviews have been like a bolt from the blue. According to a recent report by India Today, it is stated that "The pandemic has hit 82% of the colleges all across the country." 
"With changing times, you need to approach that interview with a change in mind."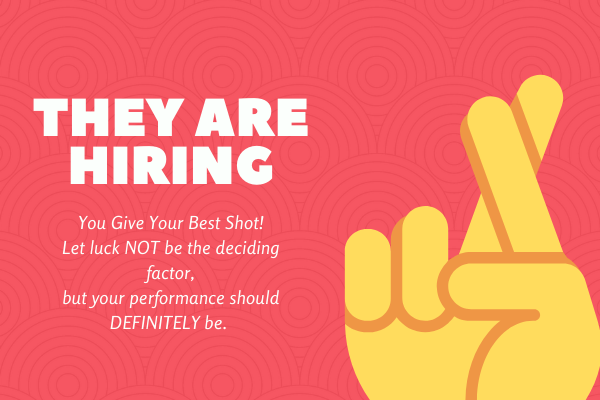 Indeed, campus placements interviews are a completely fresh experience for the collegiates. It leaves them with mixed feelings on how to present themselves in front of the recruiters. And now, after the outbreak of the unexpected coronavirus pandemic, students need to approach the situation differently. However, one thing always remains the same, i.e., the interviewers' mindset. Basically, they are simply trying to know the candidate. No matter how attractive your resume may be, the final decision boils down to the performance in your interview round. Recruiters' major concern always revolves around finding a suitable contender who can learn fast and adapt according to the job requirement. Hence, they throw common yet paramount questions to understand the respective candidature well.
Students are continually looking for ways to give the best shot in their dream company selection round. Sometimes it becomes an exhausting affair too. It is commonly observed that tutee dread the idea of facing the interview round because they lack the required preparedness and readiness to articulate their minds in the best possible way. Sometimes, engulfed in nervousness, they tend to make few common mistakes while appearing for the interview round that they otherwise don't if they approach with a calm mind and proper practice beforehand.
Therefore, it is always better to take the required preparation assistance before it is too late.
"In the digitally advancing world today, you need to employ smart solutions to level up your Interview practices. AMCAT Mock AI is the most sought out solutions to give you the simulation of the actual interview."
What recruiters essentially look for while conducting campus placements?
Before moving for that interview round, you must know the psyche behind it. It is not rocket science or an esoteric philosophy as the candidates tend to multiply in their heads. But, fundamentally an interviewer is simply trying to know you. 
Many graduation or post-graduation students assume that an examiner tries to grill them by bombarding questions to make it a hard time for them. But fundamentally, they are trying to know if a person is capable of handling a surprising situation or not. No, they, are not always trying to check one's knowledge as most of the students presume. Remember, facts are one "click" away in today's time. They want to see who you are as a person and who you can be as a professional. Once you know the fundamental reasoning behind an interview, you will get clarity on how to crack it well. Instead of fearing it, you will be able to present yourself with great ease and confidence. So now, that you know the prime purpose of this selection process, here are some common interview questions asked during campus placements. Check the space below.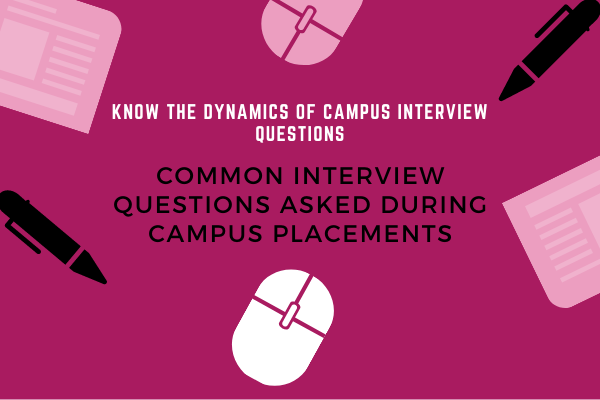 Three Important Interview Questions You Need To Know Before You Appear For Campus Placement
Here is a list of 3 common yet important interview questions asked during campus placements:-
Question 1: Tell us something about yourself?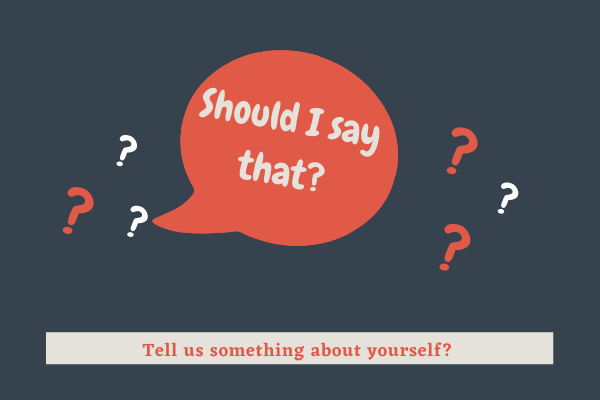 This is probably, one of the most commonly asked questions in a campus placement interview. No matter how simple it may sound, yet it provides a deeper insight into your personality. People tend to express n number of things with great ease, however, when it comes to describing themselves, it may be a hard time articulating. Also, sometimes we become conscious of our dispositions, that we tend to fumble while selectively highlighting a few aspects of our personality. However, no one can replace authenticity. It is rather a plus point to express yourself with clarity than to simply focusing on how others will perceive it.
Question 2: What do you know about this company?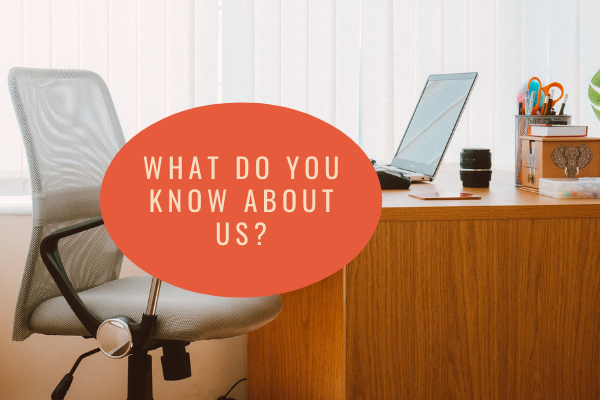 Oh, you may have not been expecting this one! But yes, it is an essential question as it acts as a report card of your awareness. Now, you may wonder that it is the recruiters' responsibility to guide you well about the company. Many times, candidates ask back these questions to the interviewer in the dismay of not knowing anything about it. 
See, of course, you will be guided about the company's profile as you enter its premises. But with this question, the evaluator is wanting to know if you have gone through the website or an overview of the organization. They try to know if you have a brief picture of the dynamics of its working. This tells a lot about your alertness. You must know who and what you are appearing for before actually appearing for it!
So the next time you get that important interview call, do your homework well beforehand. It leaves a good impression on the interviewer even if it is not asked. Rather you can use this as a point to make the session more interactive rather than being just one-sided interrogation. So use it as your strength.
Question 3. Where do you see yourself 5 years down the line?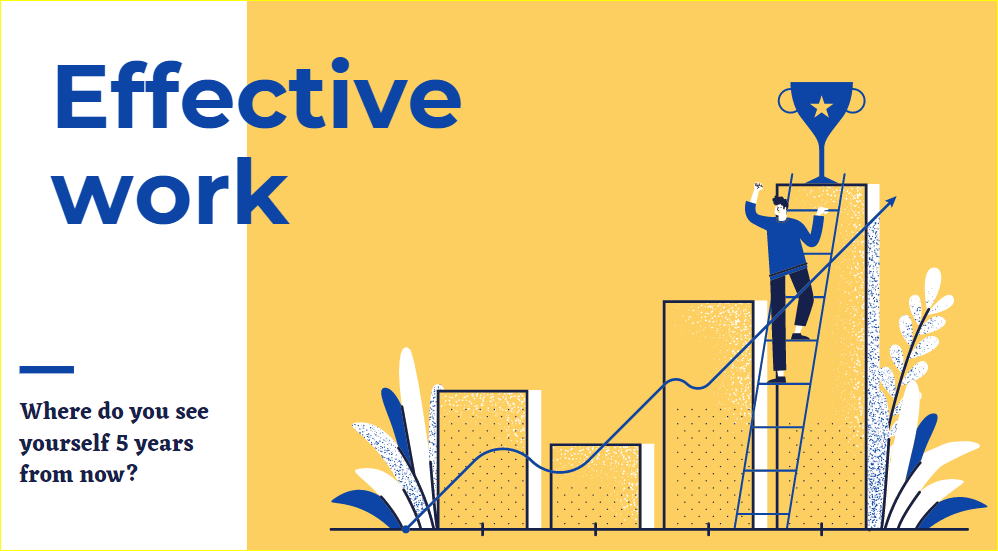 Again, no one knows what will happen five years down the line. Who thought that the "planet" would snuggle into their respective shells in the year 2020?
Yet this question has many latent insights to it. And you must know that. But before discussing it, you must ensure that you are approaching it with an open mind. One doesn't have to take every question with a pinch of salt, ie, in its literal sense. 
By inquiring about where you see yourself in 5 years, an examiner is simply trying to know how clear you are about yourself. People's plans change with time but, the recruiters are essentially wanting to see that one quality that is implicitly evident in the answer. For instance, consider the following situation:-
Interviewer: What are your goals for the next 5 years?
Candidate: I envision upgrading myself by upskilling through every situation I come across. I can see myself managing more activities and mentoring more people who come my way through my experience. Through my learnings, I wish to create maximum value wherever I go. 
This response says a lot about the aspirant. He is profoundly committed to the work. He holds leadership qualities to take others along with him/her. And of course, he is visionary about his career. 
So now that you know these three key-questions to crack the interview of your dream company, prepare well and leave no stone unturned.
It is always better to take expert support while walking the unknown terrain. So, here is a step-by-step guide by AMCAT to crack that interview effortlessly. Prepare yourself for the worst, so that the rest is a cake-walk for you. Click Here to know more.
All the best!