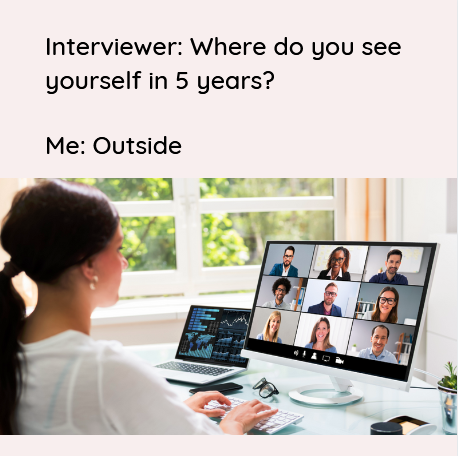 It's 2020, and yet one of the interview questions still asked is 'Where Do You See Yourself in 5 years?' It seems absurd that future employees are asked this question when job tenures of millennial are decreasing to about 3 years at the max and job-hopping is a common trend. But it is among the most common interview questions asked and it will serve you well to be prepared for this question.
Let's begin with why this question is still asked in interviews, especially as it is often asked in the HR round interview.
Stability – Employers put in a lot of energy, time and money in finding the right candidate. With the current job-hopping trends, they want to make the best bet and hire the employee most likely to survive in the organization for a reasonable amount of time. This is the question where candidates often slip and answer how long they expect to stay at the company.
Motivation – This is one of the interview questions which indicate the motivation of the candidate. What drives them to perform in this role, whether it is money, status or work satisfaction itself? This also reveals how ambitious the candidate is. Depending on what the role requires the employer can assess what kind of candidate they are looking for.
How do you answer the question – "Where Do You See Yourself in 5 years?'
While generic answers can be given, the ideal answer would depend on which stage of career you are in. Here are some handy interview tips on how to answer this question –
For Freshers –
The fate of most fresher engineers is judged by the track record of previous employees. Most engineers leave their first job within the first 2-3 years of employment and go on to seek better opportunities at other companies or seek higher education like MBA.
Though you may be unsure of what you intend to do in the future, your answer should indicate commitment and eagerness to perform well in the role. Here is an example of how to answer this –
"I am determined to start my career on a strong foundation with a great company like yours. I want to perform to the best of my abilities and contribute towards my own and the company's goals. I am looking forward to being mentored and equipped with the skills to take on more managerial and leadership roles so that I grow along with the success of the company."
This answer indicates –
Your willingness to work long-term with the company
Your eagerness to be mentored and trained
You can also add more value to this statement by listing some projects or training programs that will enhance your skills, and those that you are eager to take.
AMCAT offers MockAI, a simulated environment to practise your interview facing ability and confidence level. As a fresher (and first time interviewee), tacking AMCAT MockAI can be extremely helpful as it can help you prepare for not this particular interview questions but also similar interview questions that might come your way.
For Experienced Candidates –
'Where do you see yourself in 5 years' is not a question that is restricted only to freshers. It is also one of the most common interview questions asked of experience candidates to see what they have to say now that they have been in the industry for some time.
You may have changed jobs within the last five years or even quit your latest job within 2 years, so how do you convince the manager about your intention.
"Starting off as a fresher engineer I had a vision of being a successful manager earning big bucks within a few years. But experience has taught me better and here I am on the growth path. I believe I find my future at your company; I want to contribute to the organization with the skills I have acquired over the years. I am also eager to be trained and mentored into taking up managerial duties and work on exciting projects."
This answer indicates –
Your acceptance of the choices you have made over the years and that you have learned from them
Your willingness to stay for the foreseeable future provided there is a set growth path for you
You have acquired skills and experience from other places that are helpful to this organization
You are eager to be trained
How not to answer the question – Where do you see yourself 5 years now?
These are the important things to remember while answering this question –
Don't joke about taking the other person's job in five years!
Don't give any specifics like you wish to draw a particular salary or want a specific role that is not in the same department
Don't aim too high like you wish to be the CEO or head of the vertical!
Don't read the company website and offer any particular way for growth. This may indicate that you are set only on a particular growth path.
Don't give away information about going for higher studies, moving cities/countries, becoming an entrepreneur or any personal plans in the future
Don't waste time and end up with saying 'I don't know', 'I didn't think about it' etc. The employees want you to come with a serious and committed mindset
That's how you answer one of the most common interview questions, but one which can turn the tide for you! Comment below with your answers to this question. And for more such career advice you can't even decide if you want the same career in the next five years, so answering this interview question must bug you! But here is help to answer this question follow our blog