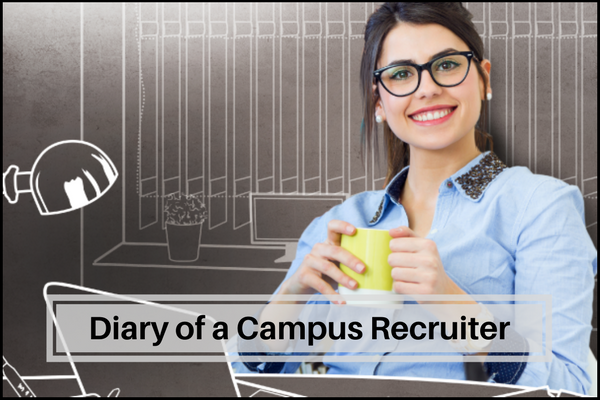 Personal Interviews are a tough challenge for all students. In fact, the entire preparation for campus placements leads up to this opportunity and it becomes crucial for students to perform well. The only problem is that students often have no idea whether an interview went well or not. The discussions about interview performance with other classmates end up in more confusion.
Everybody has their own perception of what a good interview is.
To clear the air we decided to speak to a campus recruiter about the things that indicate they are keen on hiring on you. Of course, these are not hard and fast rules, because recruiters don't really follow a code! They often act on their intuition and personal experiences.
Here are a few pointers which indicate they want to see if they can hire you-
1. Ask about your personal life –
Most recruiters don't intrude on a job candidate's personal life, however, there are few aspects of your personal life which can affect your job like your hometown, whether you are keen on working on a night shift or if you have any health conditions that may prove to be a hurdle for work. These questions will help them understand your situation and tailor a solution for you accordingly.
2. Talk about the challenges of the job –
After a point they realize that you are qualified and even suitable for the job; this is when they talk about the various challenges of the job. They offer scenarios where work may get tough. This is done because they want to make sure you have the right expectations for the job.
3. Ask about your motivations for the job –
Recruiters want to understand what motivates you – whether it is the money or the work experience. They may also place hypothetical situations to understand how you prioritise money versus job role. This is because they want employees who are keen on the company and future it offers.
4. Question your weakness –
The interview may veer more towards your strengths and weaknesses and how they may affect your job performance. For instance, they may ask how your shyness, anger or impatience or whichever trait you exhibit will serve you in a professional environment.
5. Discuss career goals –
Campus recruiters are looking for employees who will stay and grow with them for a long time. They want to stay away from candidates who only see this opportunity as a stepping stone to a more lucrative job offer or higher education. They are investing a lot of time in hiring and training you, hence they will dig deep into this aspect.
6. Interview will extend –
One of the signs the recruiter is interested is when the interview runs longer than you expect. This happens only when the recruiter likes to talk to you and invests more time in understanding you and how you fit into the organisation. They will speak about your interests outside college; they will even mention their employee engagement activities that might interest you.
7. Question your knowledge of the company –
They want to understand how much research you have done about the company, whether you have asked your seniors for their feedback from last year's campus placements. This directly indicates how keen you are on joining the company.
8. Explain to how your workday might look like –
The recruiter might take time to draw a picture for you about the workplace as well as the work you are being hired for. They will discuss work schedules, the kind of teams you will be working for etc. This is to help you assess if you really are cut out for the role.
9. Sell you the job –
Once the recruiter has made up their mind about offering you the job they will start convincing you why the job is going to be awesome opportunity for you as well. They will discuss the various employee perks and benefits and how you will enjoy working for them.
It's as important for them to recruit you as much as it is for you to get the job offer!
10. Discuss career goals –
There will be a discussion about the current company initiatives and how well you fit into their growth path. They will also elaborate on your career path within the company and how you can navigate for career success. You can observe a mix of these indicators from the recruiters during the course of your interview. If you notice any of these make sure to use the opportunity and ask the right questions to seal the deal!
We are doing a series of interviews with campus recruiters to discuss their perspective on what they look out for in a job interview, what they seek in an ideal job candidate and much more. Follow our blog for such insights and more job advice.
If you liked this copy, read the earlier parts of our series below:
Diary of a Campus Recruiter: How I Plan Campus Hiring Drives
Campus Placements | '10 things I notice in first 10 minutes of an interview'