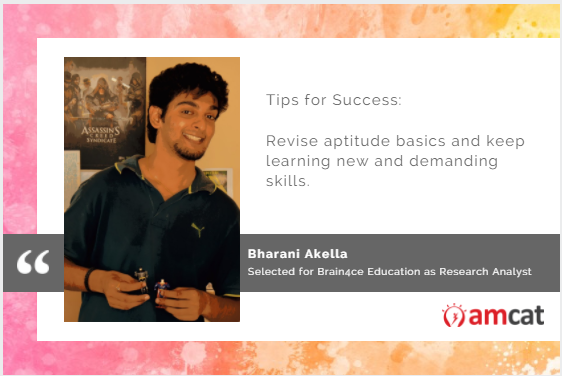 Finding your way through to a stable fresher job can be an easy ride, if you're prepared for each and every step of your job search. And that's what we figured out after an interaction with 2017 graduate Bharani Akella, who just found his!
Akella began as a computer science undergrad, who shared a key passion towards gaming. And decided to plan his way forward, so that he could avoid facing job search difficulties. He began by opting for the AMCAT Test
First Job Search Step – Giving the AMCAT Test:
"I gave the AMCAT exam in college during my Engineering course."
Akella underwent a campus-based AMCAT Test, claiming his motivation to be the success stories he had seen at his college. The B.Tech (CS) student is 2017 graduate of the Sri Chandrasekharendra Saraswathi Viswa Mahavidyalaya.
"It was quite an awesome experience! The test pattern was also good, as it judged me on different skills."
Interview at Brain4ce:
Bharani says that since he took the test, he has received interview calls regularly. The call from Brain4ce Education took him through a structured interview process.
"The interview process at the company was quite good. I faced 5 rounds of Interviews: :
1. Group Discussion
2. Email writing
3. Programming Test
4. Tech Interview
5. Co-founder Interview"
Based on his performance in these rounds, the company soon selected him for the job, offering a position as a research analyst. Looking back, he said that careful preparation was the key to success in one's job search.
"Prepare well before the company interview. For the AMCAT Test, revise the aptitude basics. Overall, keep upgrading yourself by learning new and demanding skills."
Congratulations, Bharani Akella – you achieved the kind of success you were hoping for during your job search. To those who are reading this piece, it's easy to achieve it yourself as well. Schedule an AMCAT Test today, for a date as early as January. You can also avail the ongoing AMCAT January Offer.