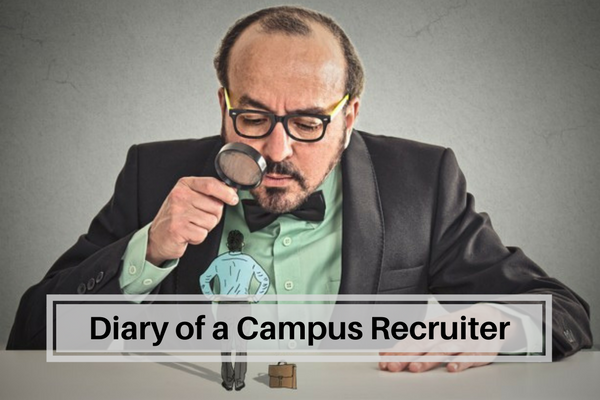 Campus Recruitments all boil down to 99% perspiration and 1% luck. It is important that hard work has gone into the preparation for campus placements. Every stage of the recruitment process is crucial, including aptitude tests, group discussions, case studies and personal interviews. Each stage leads to the final personal interview stage where you literally need to put your best foot forward.
We decided to speak to a campus recruiter about what they notice in the first ten minutes of an interview and here is what they had to say –
1. Punctuality & preparedness –
Students who come well in time for an interview create a good first impression. It shows that they have organised themselves and managed their time well, which are positive traits. If they are carrying all the required documents like resumes, forms or photographs that's a big plus too. Forgetting to bring things means that you probably can't handle last-minute stress or multitask well.
2. Positive Body language –
Body language is immediately noticeable and is observed through the course of the interview. It's always great to see a smile when the person walks in. A confident walk with a good handshake on introduction is a good indicator of a confident person.
Students should also try to maintain eye contact and not shy away from facing the questions head-on. Excessive fiddling with pens or hands, or shaking of leg etc. can be a put-off and shows fear.
3. Appropriate Clothing/attire –
Students are expected to be at their professional best at the time of their interview. Clothes need to be clean and neatly pressed and should be appropriate business clothing. Looks are not important but students need to be decently dressed as they are going to be the face of the company in the future. It shows effort and readiness towards working in a professional environment, physically and mentally.
4. Communication skills –
These communication skills include how well you speak – your accent, ease of understanding your speech as well as your grasp of English. It's important that students are able to communicate well with future teams and clients.
5. Comprehension skills –
Comprehension means the ability to understand the situation. In an interview it is important that the student is alert, answers to the point, speak relevant points and does not divert from the topic. Students often talk too much or over-explain themselves in order to ensure their point is put across. Such behaviour should be avoided as it shows that you have low comprehension skills and need constant hand holding.
6. Enthusiasm & passion –
Students need to showcase equal amounts of passion and enthusiasm, both towards the company as well as the job being offered. However, many students tend to cross the line and show too much eagerness to please the recruiter and lose track of what they say. Recruiters like students who can express themselves well yet are in control of their emotions.
7. Attitude –
Recruiters most importantly assess the attitude of a candidate during the interview. It is often said that you can train for skills but you cannot train for the right attitude. Students displaying a cheerful and calm attitude create a positive impression. If you complain too much be it the way the recruitment process is going or about your college or professors, it's not going to come off as a plus point.
8. Readiness for the job –
Recruiters expect students to have prepared themselves for the job interview. The expectation is that they know basic information about the company as well as the job description. It shows that they have done their homework, are prepared for the job and understand what's expected of them.
9. Honesty and authenticity –
The fresher resume is the single most important document for a job candidate. Recruiters will assess through the interview questions if the student has been truthful on their resume or not. It's not a good sign if they have exaggerated or falsified information, it means they are willing to go to any negative extremes just to get the task done.
10. General Awareness –
Students are expected to have well-rounded personalities and an indicator of this is how well aware they are of their surroundings. Any small chat about the current happenings around the world or even in the city indicates an interest in the world outside. This trait becomes important in a workplace because employees have to constantly speak to clients, who are not always going to speak about professional stuff.
Job seekers should improve on all these aspects to increase their chances at successful campus placements.
We are doing a series of interviews with campus recruiters to discuss their perspective on what they look out for in a job interview, what they seek in an ideal job candidate and much more. If you liked this one, read the first part of our series here:
Diary of a Campus Recruiter: How I Plan Campus Hiring Drives