Though this force of nature strikes college campuses once in awhile, you can still feel it across the year – right from admissions to course choices, placements to graduation. Revered and feared alike, this is the campus recruiter. She/He brings amazing opportunities that can change a student's life. Or leave them frazzled by their choices.
One-on-One with a Campus Recruiter:
We spoke to a campus recruiter from a major IT company (also perceived as a mass recruiter) about their work and how they prepare and plan for campus placements.
How was the placement season this year? Are you relieved it is over?
Yes! It felt like just a few days ago that a new batch of graduate trainees were inducted into the organisation and my work as a campus recruiter was done for the year. But I realised it's already been a couple of months and now the graduate trainees have nicely settled in their roles and their feedback has started pouring in from managers.
How important is the feedback? Does it impact the next round of campus hiring?
I have to take the feedback from the managers seriously while planning the next cycle of campus recruitments. We need to analyze students from which colleges are performing well, what kind of qualifications they have, their soft skills like communication skills etc. We don't judge a college just based on one student but we notice a trend over the last few years and allocate the numbers accordingly.

We have our favourite colleges where whoever we have recruited has shone in the company and have shown great discipline, ethics and hard work. If you are a student then you should find out the campus trends in your college for specific companies and prepare yourself accordingly.
How do you decide on the placement numbers? How many to choose?
The hiring drive of the next campus trainees begins now where my team works with the business heads to get an estimate of how many fresher jobs are available in each team. The budgets for most IT MNC companies like ours get finalised by December, so we have an estimate.
Sometimes we estimate it right and all the graduate trainees are placed in teams, and if all of them are not filled then we even have off-campus placements. However, if business slumps over the next year by the time the trainees come onboard, then we have no other option but to keep them on the bench.
Some of the most enterprising students I have seen make the best use of being on bench and get more certifications and skills added. It's such an easy task to place them in teams when the opportunity arises!
How do you decide on which campus to go for recruitments?
We often have campus engagement programs running with some colleges in the form of competitions or internship programs and we hire through these channels. Of course, our hiring budgets are limited so we can't do that in all colleges and invest our energies in recruitment drives.
We love campuses where the students have shown academic rigour and excellence as well as have other technical skill sets and extra-curricular achievements. As an IT company with foreign clients and teams, it becomes important for us to choose students who communicate well and can hold an intelligent conversation with other teams and clients. Our employee brand has a great reputation and we definitely choose the best!
The campus placement teams provide us details of the students, their performance through the year and much more. That's how my team decides which colleges to go to.
How do you plan for the recruitment drives?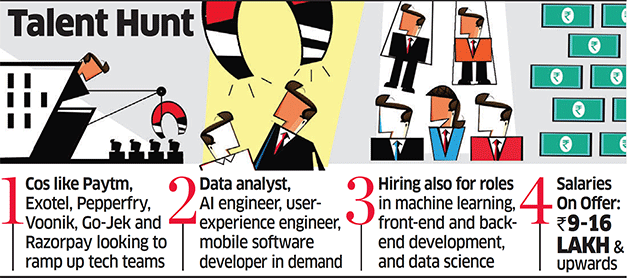 It involves complex planning; we work with our business heads as well as campus placement committees to schedule the dates. For us, it's FOMO at best, Fear Of Missing Out on the best candidate! We also have to compete for the best students with other companies out there and it's an all-out competition.
How is the experience on the day of campus recruitment?
The day of the recruitment is exciting and challenging. We meet so many promising youngsters who are full of enthusiasm and passion, it certainly gets tough to select them. We conduct a series of rounds, the aptitude test, followed by group discussions and finally the personal interviews. The business heads travel with us for the technical personal interviews.
I often sit for the HR rounds along with my team. It is such an important task for us to select the right candidate; it's like choosing someone to be a part of your family! But we have systems in place, to grade and rank the students and ultimately choose the right student.
We are doing a series of interviews with campus recruiters to discuss their perspective on what they look out for in a job interview, what they seek in an ideal job candidate and much more. Follow our blog for such insights and more job advice.
If you liked this piece, go through our current series on Campus Placements here: