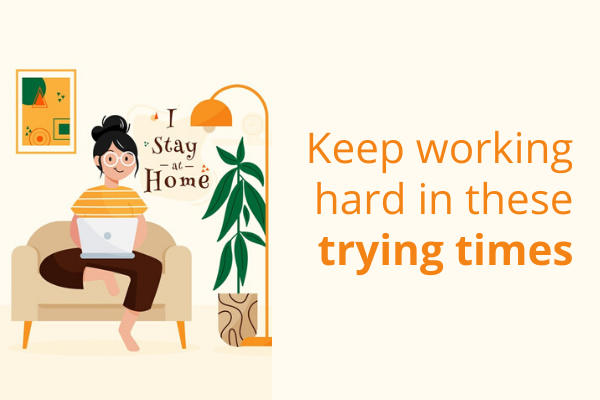 Even during a lockdown, time is of the essence. So, don't let COVID-19 put a full stop on your job search. Use this time to improve your skills and abilities and work upon giving your job hunt an edge.
Although, searching for a job during these confusing and anxious time can be challenging, however, companies are taking all the steps to ensure your health and wellbeing. Think of this pandemic as an added level of difficulty that you can overcome with hard work and positivity.
So, here are a few actionable steps that you can take to get success during these trying and unpredictable times.
Write down your goals
The first thing is to get a clarity of your goals. Having a clear view of your goals will help you decide the area where you want to work and the kind of roles that you are eligible and interested in. Moreover, being well-versed with your goals will help you start working towards them.
For instance, once you have decided your area of interest, you can try to connect with people who are in that field. Use LinkedIn and talk to them about the job role and its responsibilities. Doing this will help you get the ground reality and will help you find out the skills that are in demand.
You can also take-up online courses and certifications to improve your skills. Due to the lockdown, many companies are giving their paid certification courses for free. In addition to that, your AMCAT score is also a good indicator of how skilled and job-ready you are. So, give the AMCAT exam from home and apply to opportunities available on the job portal.
Job Resume
This is the right time to start working on your resume. It is through your resume that the recruiter gets to know you. Therefore, you should create a resume which is both eye-catching and compelling. In addition to that, make sure that your resume has everything that a glance at it will make the recruiter consider your candidature for the interview. 
Moreover, make sure that you customize your resume as per the job requirement, add a few industry-related keywords to make it more role targeted.
Interview Process
In the wake of COVID-19, companies have shifted their recruitment online. Meaning the hiring managers are using virtual tools like Skype, Hangout, Zoom and more to conduct interviews. Therefore, you must know how to face a virtual interview.
Starting your preparation beforehand can make your job search journey easier. Moreover, time doesn't wait for anyone, no even for a pandemic. So, look for a future beyond this outbreak and work hard for it.