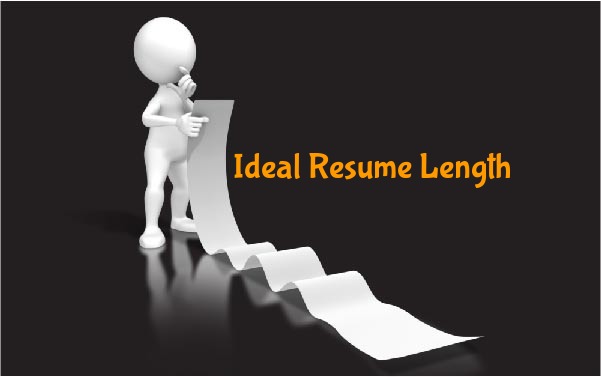 'My resume is two pages ya!'

'But my resume is just half a page!'

'Erm, I have a three-page resume!'
It is highly likely that you have already had such a discussion with your friends. If not, will soon be a part of such a discussion in college while making your fresher resume.
Everyone follows random resume templates that they have got from their siblings or friends, and then they start using it to create their own. This leads to a ton of confusion, and no one is the wiser!
So the big question is, "what the ideal resume length is?"
The ideal resume length for a fresher resume is one page. There are many factors for this, and some of the important ones are –
As a fresher, you do not have any professional work experience to write about. In fact, anyone with less than ten years of experience is expected to stick to just a one-page resume
You can highlight all the important points in one page and make it easier for the interviewer to scan your resume. An interviewer spends less than a minute on every resume, and you want them to concentrate on the best features of your professional life
One page rule of resume length helps you maintain relevancy in it. Ideally, you should only fill in things that are relevant to the job profile and nothing else
How do you create a fresher resume of the ideal resume length?
You can take simple resume templates from your seniors, now that you know you need to stick to one page you can filter accordingly.
Or, you can use a cool tool like the Resume Buddy which has more than 20 resume templates that are perfect for freshers. The tool also has keywords and phrases that you can use to fill in your resume!
The resume templates are well designed and look pleasing to the eye, and they are sure to catch the attention of an employer.
How to cut short a fresher resume that is more than one page long?
Believe it or not, it's easier to cut short a resume than it is to lengthen it! So you are lucky, and all you need to do is follow these simple steps to ensure your fresher resume sticks to its one-page length –
Check your extracurricular activities – Write down only those activities which have a direct impact on your job profile. Most students with multiple hobbies and extracurriculars have this problem. You end up writing all the prizes you win at all the contests! Just limit it to the prestigious competitions and those that show your skills of team management, public speaking, writing, and sports or similar things.
Re-write project and internship experience – You may have done several projects at college, in fact in every subject and every semester but you don't have to write all of them. Choose the subjects that are relevant to the job and highlight those. Only mention the project name and a short synopsis, this is where you can expand on it when the interviewer asks you questions about it. Same is the case with internships, limit job responsibilities to 3 -4 bullet points.
How to increase a fresher resume length to one page?
Ideally, just your qualifications and personal details should take up at least half a page of your resume. Ensure that it is formatted well, don't use big font size to make your resume look longer.
You can use Resume Buddy to get pre-formatted resumes, and the sections in the template will also help you fill in stuff you might have forgotten.
Add compulsory projects in college – You can add the academic projects that you did in college, even if they were group projects you can write it in and then explain during the interview.
Take free courses online – One of the best ways to build up knowledge and also showcase skills at the last minute is to take up short online courses. These MOOC courses can be done in a couple of hours, and you can get certificates based on those skills. They will convey your interest in a particular subject and also help you gain additional knowledge without spending weeks together on an offline course!
The key is never to stretch the resume length too much that it starts to appear nonsensical! Your first prize in the spelling contest in high school doesn't mean a thing!
At the same time, resume length should not stress you out too much. Even if it is just 3/4th of a page, keep it clean and neat. Interviewers understand that fresher resumes do not have much to read except for personal achievements. Just spend some time in creating the best resume you can