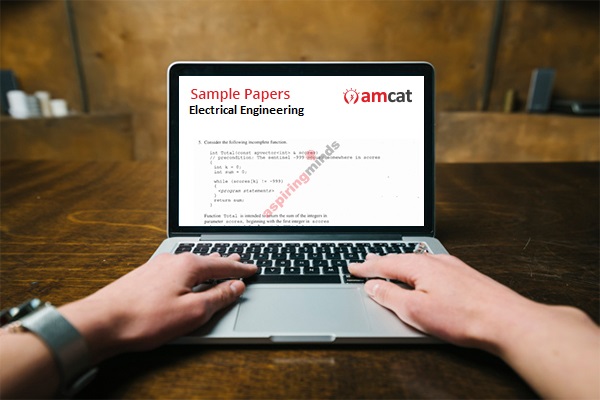 When you are preparing for the AMCAT exam, it is obvious to wonder what kind of questions you might be asked or how best to answer these questions.
Of course, to find an answer to this, you would try to go through the AMCAT previous years' papers and figure out the pattern and what kind of questions you can expect.
And, to help you in that quest, we will get your hands on some previous years' papers and try to understand what kind of questions are generally asked in an AMCAT exam.
In our "AMCAT Previous Years' Papers" series, we are aiming to cover different modules and give you some insightful view. Today, our focus is on AMCAT Previous Years' Papers for Electrical Engineering. Let's find out more about it…
AMCAT preparation guide for Electrical engineering students
If you know how to stick to a timetable and dedicated a few hours every day to the AMCAT preparation, then you can easily nail the exam and expect a great percentile.
In our previous article on, "How to crack AMCAT in the first attempt", we have talked about this topic in detail. However, to cut the chase short, start by preparing for the compulsory modules, i.e, English, Quantitative Aptitude, and Logical Reasoning.
For that, you can try brainteasers, spend some time reading the newspaper (that is still one of the best ways to improve your English) and solve quant questions on a daily basis.
And, for the most important module for you – the core electrical engineering module, you need to put in some extra effort, as this is the section in which you need to outperform everyone.
AMCAT exam pattern for Electrical engineering
The AMCAT exam for Electrical engineering is designed to test the theoretical as well as practical knowledge of students in electrical machines, control system, and electronics.
You are asked 25 questions and given a total of 30 minutes to solve them.
The exam is divided into three categories and their sub-categories. These categories are –
Fundamentals of Electrical Engineering
Basic electrical engineering
Electrical machines
Power machines
Instrumentation and control
Instruments and measurements
Control system
Electronics
Analog and digital electronics
Power electronics
Here is an example of the kind of questions you can expect
The output at any instant of time in a sequential circuit depends upon _____
The inputs at that instant of time
Past outputs as well as present outputs
Past inputs
Past outputs
Some important tips to help you prepare for the AMCAT exam
The best way to prepare for the AMCAT exam for electrical engineering is to
1. Pay a lot of attention to the basics – Most of the students know how to score well in the semester exams but lack the basic knowledge of the subject. As such, you need to go back to the core concepts and work on expanding your basic skills.
Strong fundamental understanding of the subject can help you solve questions related to complex circuits and machinery quite easily and effectively and make the transition from college to job easier for you.
2. Train yourself – While colleges usually focus on imparting knowledge to the students, to get an edge over your competitors, you need to move out of the lab experiments and books to train yourself.
For that, you can take up internships in companies within the power sector or take up new projects to gain valuable practical knowledge of the industry.
3. Keep up-to-date with the industry trends – The power sector is ever expanding and is immense. There are so many disciplines that you might not even be aware of.
So, look up things on the internet, talk to your seniors and teachers and try to keep abreast with the latest trends and developments in the industry. Subscribe to some newsletter or journal on the same.
Conclusion
The best way to prepare for the AMCAT exam is to know your industry in and out and have a thorough command of the core skills.
However, to perfect that, you need to keep working and practising every day, and prepAMCAT can help you a lot here. It can help you decide whether you are ready for the test or not while guiding you on how to score better and make you aware of your weaknesses and strengths.
So, start preparing, now and check the AMCAT previous years' papers for electronic engineering on the official AMCAT website.