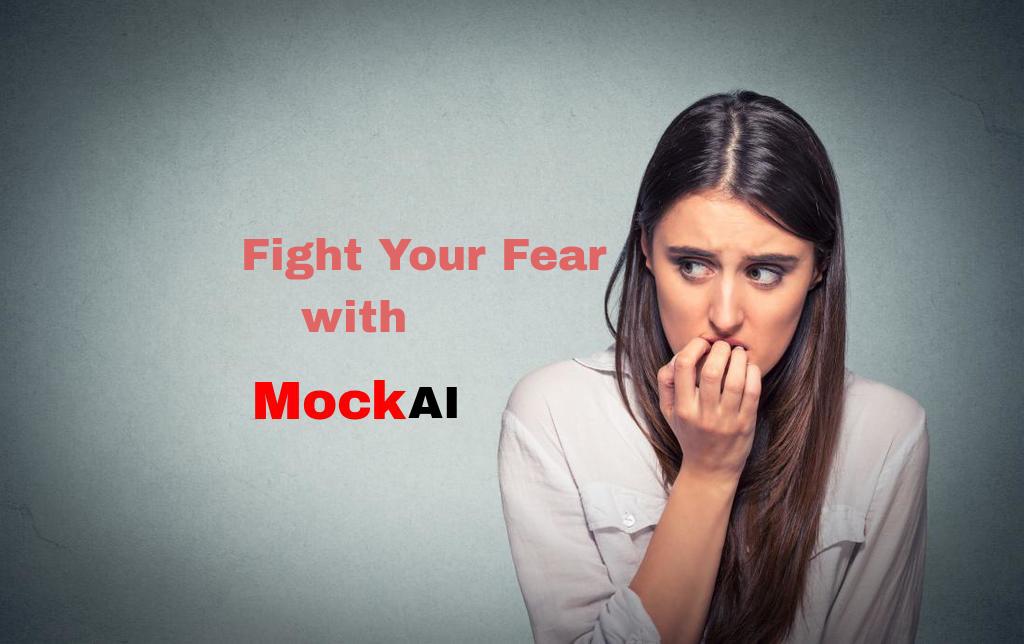 Stress and tension before an interview are quite common, and even the toppers and high achievers worry about interviews!
Anxiety mainly arises because the opportunity can often change your life and you don't want to miss it. Interview anxiety can, however, be managed and controlled to a great extent with a bit of preparation.
We have listed these seven easy tricks to ensure you are prepared to fight against the worries and come out successful –
Prepare for what's expected –
Often students fail to prepare adequately for a fresher interview.
They are either ignorant or too stressed to prepare well and end up messing up the interview leading to more interview anxiety.
It's a terrible cycle you don't want to be part of.
Instead, the best way to beat this cycle is to prepare for the interview with expected questions.
MockAI is a great tool to go through interview tips and commonly asked questions. It will help you prepare for all rounds of interview and will reduce your stress to a significant level.
See yourself perform –
Most colleges have mock interview preparation, but there are hardly one or two sessions and many times you don't get the right feedback.
This leaves you unprepared for the fresher interview.
While friends or family can help you by interviewing you, they won't do a good job as they are not professionals.
MockAI is a pretty cool tool where you can record a video of yourself answering questions and play it back to check on your body language and interview skills.
You will also receive feedback about your performance, which can help you prepare better and reduce your interview anxiety to a large extent.
Work on reducing stress-inducing things –
Many factors induce interview anxiety depending on the kind of person you are. Some people cannot handle being late for an interview, or some cannot eat properly.
Just observe what causes you anxiety for your fresher interview and avoid those things.
Set your clothes the previous night, eat things that suit your palate, organize your transport beforehand, keep all your interview documents in a proper folder and just be prepared as much as possible.
Do positive actions –
It is not enough to think positively during this stressful time because interview anxiety itself means that you cannot control your mind 100%!
While you will be told to stay calm and confident, you can do that only by engaging in positive activities.
Write down why you are suitable for the job, and keep that paper with you right till you go into the interview. Surround yourself with positive people and if you spend a lot of time on social media follow motivational pages or accounts.
Sometimes, it's the simple things that help in reducing stress!
Also Read: 5 Things You Should Not Do 24 Hours Before Your Job Interview
Take your time during the interview –
Yes, interviews are all about judging candidates but do remember that they are not as quick to judge as you believe!
Don't rush into answering questions or blurt something out in a hurry to respond quickly. Take your time and answer the interviews.
Interview anxiety can increase under time pressure, so the critical thing to understand is there is no limit on time!
Indulge in self-care –
Interview time can be demanding on your mental health, especially campus placement time or off-campus fresher interviews.
You cannot possibly spend all your time preparing for the interviews.
Among the best interview tips is one that urges you to take care of yourself and stay happy.
Do small things that you enjoy, like playing a football game or watching a youtube series, however, don't start bingeing on it! Just take breaks to keep your mind off the interview anxiety.
Don't focus on the outcome –
You have heard this from your elders every time, don't worry about the result just put in the effort and that is so true.
It's the uncertainty of the interview that builds interview anxiety.
The best way to do this is by writing down your Plan A, and ensuring you have a Plan B.
Remember there is never a situation where there is no Plan B, there is always one, and you should keep an open mind about it.
Life doesn't end with just one fresher interview!
Conclusion –
These are all simple things that you can follow as a part of your daily routine as well. But if you feel that the interview anxiety is too much and you are finding yourself too consumed by it and unable to perform, speak to someone about it.
Speak to your parents or any trusted elders, or even counselors in college. Interview anxiety is common, and it happens to everyone, be prepared to beat it at its game!
Also Read: Reasons Why Interview Preparation Should Not Be Taken Lightly
Also Read: Preparing For An Interview When You Are Short On Time