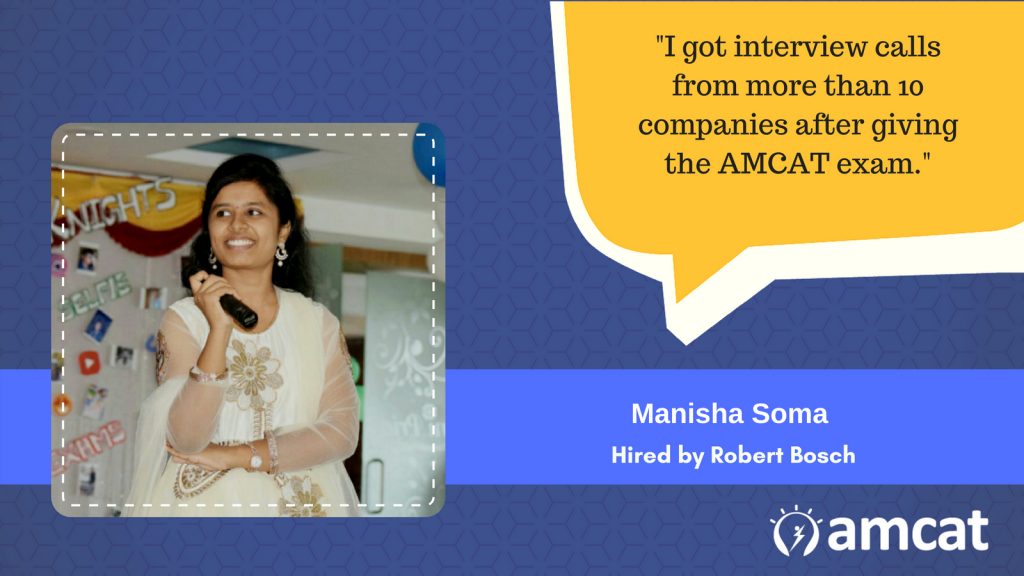 Getting a job is obviously no piece of cake. However, the journey through the job search can be made easier with the AMCAT exam.
Don't believe us? Take a look at what Manisha Soma, a Robert Bosch hire has to say about it…
Tell us something about yourself
"I graduated from KU College of Engineering and Technology in ECE stream. My dream to work with any of my core companies was fulfilled by AMCAT, as I got selected in Electronics company ROBERT BOSCH."
Why did you opt for the AMCAT test?
"It is very difficult to find a job out of campus.

AMCAT is the platform where we can find companies in different sectors, including the core companies of your field. It is a bridge between a student's skills and companies."
How was the AMCAT test experience?
"The AMCAT exam tests our skills on all levels. However, being perfect at the basics is enough to have a good score in the exam. Preparation should consist of practicing more. This is what made me achieve my dream job."
When did you get your first interview call after AMCAT? How many calls did you receive?
"There are many companies, which are looking for a graduate with good skills. I got interview calls from more than 10 companies after giving the exam."
How was the interview process at the company? How did you prepare for the interview?
"With the help of the AMCAT exam, you can get a chance to attend the direct interview for some companies while some other companies conduct a test again. It depends completely on the companies rules and policies.

I prepared the basics of all the subjects before attending the job interview."
Would you recommend the AMCAT to others? If yes, Why?
"Of course, FOR SURE!!!!!"

"I am a live example for anyone asking about the benefits of the AMCAT exam. In fact, I always suggest my juniors and cousins to give the AMCAT exam to achieve their goals."
Please share a few preparation tips for other job seekers so they too can bag a good job?
"Your job preparation should cover all the topics. So, try to perfect your basics for the subject and make your roots stronger.

Also, practicing more can help a great deal with time management. Attend an interview with a fresh mind. And, lastly, always believe in yourself."
That is some very sound advice and we recommend you to follow it through. Also, we would like to congratulate Manisha on her achievement.
You can also bag your dream job and write your own success story by scheduling the AMCAT test today. And, remember, your hard work, determination and zeal will be the ultimate coin that will guide you to success.