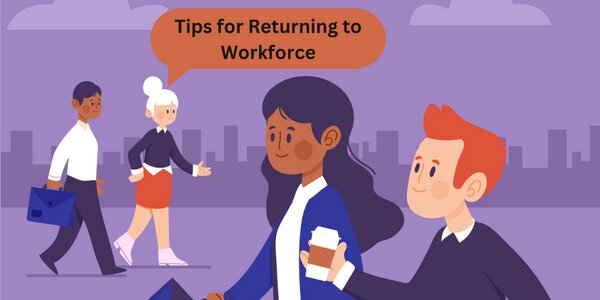 Are you planning to return to the workforce in 2023, but you want to find tips and solutions to make the transition less difficult? Whatever your justifications are, it's time to pull up your socks, roll up your sleeves, and make a determined return to the workforce.
Even while taking a vacation and tackling issues one at a time is crucial, going back to work can be equally challenging for anyone.
We've got you covered, so don't worry! Let us walk you through the steps to take as you get ready to discuss your career gap in an interview and get ready to return to the workforce in 2023.
The following 8 pro tips can assist you in getting back to the workforce.
Up-skill yourself as per the Market Requirements
It's obvious that your skills are not polished and updated enough when you plan on getting back to the workforce after a break. Hence, it is equally important that you need to upskill yourself as per the current and ongoing market trends.
Some businesses are hesitant to employ individuals who have a career gap. However, the chances of you getting the position are high if you convince them that your abilities are relevant.
Hence, we would like to advise you to up-skill yourself and get the required certifications. Do whatever it takes to help you re-join the workforce with a bang. Holding the necessary certifications will showcase to the employer that the time you chose to spend away from the workforce wasn't wasted and you utilized the time to gain the necessary certificate and learn a few tips.
Also Read: Online Assessment Tests for Jobs
Search for a Job as per your Needs
It is extremely important to prioritize your requirements when you begin your job search. You must modify the criteria of job search as per their needs. This is one of the key factors for all of you out there with specific requirements, such as new parents, professionals recovering from a chronic disease, or even job seekers who would prefer flexible work hours/schedules.
Work on Networking and Re-Networking
It's not necessary to be cut off from the outside world when you're on a break from the professional world. We are sure that you must have had a strong network of contacts before you took a break. You must consider contacting them and letting those people know that you intend to resume your professional activities.
You will certainly receive assistance from someone in the network, it can be either in the form of a suitable job opportunity or it can be a person who will be your reference point contact. The reality is that your network is important.
If you're reading this, that means you probably have plans to get back into the workforce. And if that's the case, make sure your networking strategy is planned well in advance.
Join an NGO
When you take any such initiative, you not only get the exceptional opportunity to do community service and contribute to a worthwhile cause, but you also get to learn a ton of brand-new abilities. Working in an NGO can significantly improve your interpersonal skills. These are the skills that every professional must have, regardless of wherever they are in the career hierarchy.
Not just this, but it also lets you interact with a network of individuals who share the same interests as yours. This is an opportunity you might not get otherwise, so it is advisable to grab it whenever you get a chance.
Do Freelancing or Part-Time Jobs
Who said freelancing is only for writers? After taking a career break, avoid rushing for a 9–5 job as you might not be able to handle it. Instead, take baby steps at a time like taking up freelance or part-time projects, and gradually move towards working for a full-time position. This will ease your transition and assist you in forming a habit.
You can also list the projects you did during freelance and part-time jobs, which will help to fill up the gap in your resume.
Build a Resume that Reflects your Skills
We know most likely; you did not expect this. But let us tell you that your resume plays an important role. You will surely need one when you return to the workforce. One thing is for sure, that being on a break from work does not mean that your skills are lost. Always keep this in mind, at the time of making your CV again when you plan on getting back to work.
Therefore, always make sure that your resume is a vivid representation of your qualifications and professional talents.
Create an Eye-Catching Cover Letter
Writing a strong cover letter is the sixth pro tip for those of you who are planning to reenter the professional world.
Trust me, this is the perfect spot where you have the time and room to explain your absence from the workforce. It gives you an opportunity to elaborate on the topics you believe a resume fails to cover in the limited space. You can also highlight why and how you are qualified for the position in your cover letter. Additionally, it gives you the chance to emphasize how your qualifications surpass those of other applicants.
A cover letter is an essential component of your toolkit for returning to the workforce if you intend to do so. You must write one to see its impact while applying for a job.
 Take Support from a Career Coach
If you're still feeling confused, do not hesitate and consider getting assistance from a qualified career coach. The experts can assist you in staying focused, train you on how to network, and also optimize your job search with the appropriate job profiles.
In order to make the job search process easier, you can search for organizations that offer re-entry programmes.
Register for AMCAT | India's Leading Fresher's Assessment And Job Site (myamcat.com)
Some people may find it frightening to consider going back to work after taking a break from professional life. To help you focus your attention away from the bad emotions inside of you, apart from the above-mentioned tips one can also try some meditation, exercise, or other activities as per their choice.
We hope you found these tips and the article helpful. We wish nothing, but the best for you and hope you get a warm welcome back in the professional world.