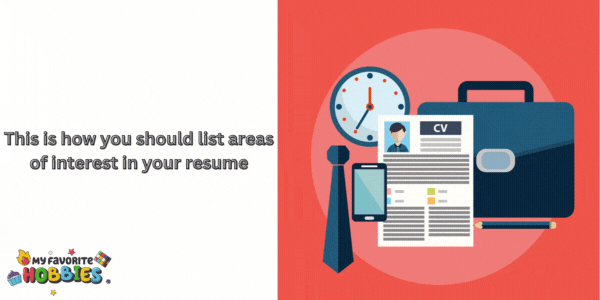 The recruitment process can be difficult to pass but having a good resume can make things easier. A resume is inarguably the first opportunity in making a good impact on hiring organizations. We all very well know and cannot deny the fact that hundreds of applications are received for a single job posting. To select the appropriate candidates from hundreds of applications, the first criterion for selection is the scanning of Resumes. Your resume should cover your education history, work experience, skills, declaration etc. and with all, it should also be short and attractive. To make your resume stand out from other candidate's resumes, it is advisable to include in resume a separate paragraph for Areas of Interest.
What is the Area of Interests?
In simple terms, area of interest is something you like to do when you are not working. Areas of interest can also be titled as your Hobbies. For example, travelling to new cities, exploring different cuisines, planting trees, collecting stamps, or listening to music.
Register for AMCAT | India's Leading Fresher's Assessment And Job Site (myamcat.com)
Should you include the area of interest on your resume?
Many people quote that listing area of interest on your resume does not bother hiring manager and is therefore it is not appropriate to include it in resume. But let us tell you the truth – including Area of Interest on resume is a must. There are numerous reasons for including area of interests, let us look at few of them:
– Area of Interest highlight candidate's soft skills such as leadership and communication skills. For example, if you write you like to play cricket, then this shows your soft skills in a way that you are dedicated and a good team player.
– Including personal information like area of interest makes the Hiring Manage connect on a personal level with the candidate. This helps further when a hiring manager is able to find his or her own hobbies in your area of interest.
– Listing interest completes a resume if you do not have a work experience or limited educational history.
– Hiring employers sometimes themselves ask the candidates for their hobbies or interest when inviting applications for job vacancy or during a face-to-face interview with candidate.
List of areas of interest to write on your resume
Here are a few examples of areas of interest that can be includes in your resume:
Sports – This can be explained to include the particular sport you like to play or watch. Sports can also include activities like jogging, yoga or hiking. Including Sports in interest column depict that you are a team player or a team leader who works with defined rules.
Listening to music – Explain what form of music you like and also add if you yourself play any musical instrument. Adding music indirectly explain the potential employer that you make the most of your idle time by indulging in some activity.
Making music – If you like composing music, adding it in resume is advantageous as it shows your willingness to learn new skills. If you are part of a band, you can add that in your resume to highlight your collaboration skills.
Blogging –Employers prefer candidates who are innovative and likes to think out of the box. And writing blogs demonstrate you are a creative thinker. Writing also shows the ability to communicate and network.
Learning languages – If you have a command on any foreign language, you can mention it in your resume as it showcases your initiative and good communication skills. Adding learning languages can be more beneficial if you are applying for a job that requires international travel.
Photography – Capturing photos require focus, creativity and patience which are important skills generally required by employer.
Travel – This is a common interest for many people. Travelling will manifest to the hiring team that you like to explore new cultures and meet new people. This is particularly useful when you have to work in a dynamic team which has people from different places. Adding Travelling show that are flexible that you can step out of your comfort zone.
Volunteering and community involvement – Companies regularly do volunteer activities to help society. Volunteering activity showcase your generosity towards the society. It is a sign that you will work well when teamed with different people. So, if you also do volunteering, it is worthwhile to mention it in your resume.
Reading – This activity shows you have focus, intelligence with a good command over language. Reading books also depicts that you have an expanded vocabulary.
Yoga – Meditation or Yoga demonstrate your control over mind, mindfulness, calmness, and composure. These skills are required to handle difficult situations at work like short work deadlines or a dispute with a colleague.
Few other examples of interests can be added to resume are:
Podcasting
Marketing
Writing
Dance
Art
Watching movies
Politics
Cooking
Solving puzzles
Gardening
Before including any interest in resume, take time to consider whether each interest would have a favorable or unfavorable impact on hiring organization. It is always a good trick to include your only those hobbies that perfectly sync with job description and company values. Aligning your interest areas with company vision and mission will make you a good choice for the job vacancy.
How to list your interests on a resume?
Take a note of below important takeaways when listing your interests on a resume:
Add interests towards the end of your resume after introduction, education history, work experience and skill section.
Your interests should have a short description of few words. In case where you do not have sufficient fact to add in work experience, you can extend the interest area by explaining each interest in one to two lines.
It is advisable to include not more than 3-4 hobbies and each hobby should appear in a separate line.
Keep the interest specific. For example, mention the exact form of dance that you excel in when writing dance in your interest area.
Do not include any interest activity that you do not actually partake in. Lying on resume can get you in trouble if you are specifically asked a detailed question on any false interest area.
Avoid mentioning interest related to politics or religion.
Do not include interest activities that are illegal to perform.
How to list your interests on a resume – samples/templates?
See below templates on how to add interest for different roles:
Interest in a Teacher resume:
Family & friends – This illustration demonstrates that the candidate is an outgoing, extrovert individual who values technology and knowledge. We may get the same conclusion by looking at the pie chart and the list of passions without needing an explanation of it.
Interest in a Freelance Web Developer resume:
Even if it says "Strengths," we can still tell what this person's hobbies are by looking at it. They like learning about the world and are optimistic about changing themselves. These two facts imply that the individual is adaptable and quick in learning new things.
Interest in a Social Media Manager resume:
If there is still a blank area on your resume that you would like to complete, you may utilize a little section like this. Even keeping it straightforward like this provides employers a glimpse into your personality and life outside of work.
Interest in a Photographer resume:
Employers will have a better overall reading experience when you use CV icons. By emphasizing their interests with complementary colours and a concise statement of what they enjoy about them, they have made it simpler for them.
Candidates can have same year of work experience and similar education history, but their interest areas can be different which will differentiate them from others. Identify your hobbies and convert them into a work skill.
FAQs
Q1. What is the area of interest in a resume?
Ans. Areas of interest are activities you are passionate about. Activities you enjoy doing in your personal life are categorized in area of interest.
Q2. How to put interests in a resume?
Ans. Include interests that align with your work role and responsibilities. Include only those interest can have a positive impact on hiring manager.
Q3. Where to list interest in a resume?
Ans. Add interest towards the end of the resume. Make a separate section where you can list each interest in a separate bullet point with a heading.