In simple words, Employability Skills are the skills that are required by an individual to make them employable. These skills are looked out for at the time of hiring process. During the entire career, till a person is working aspiring employers and universities look for confirmation that one has all these important skills. Also, Employability Skills are extremely important when you don't have much 'on-the-job' experience to illustrate one's ability to perform the role.
Besides the basic technical understanding and subject knowledge about a particular field, certain skills like communication, excellent interview skills, time management, and more are very essential.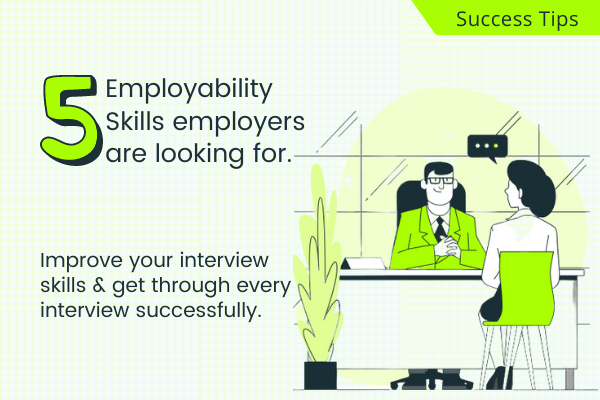 Check out the below-mentioned skills on how to improve your interview skills and to get through every interview successfully.
What are the 5 most important employability skills which employers seek in an employee?
Be it any job profile, communication is one of the most important employability skills which employers seek in an employee. They want their employees to convey the message precisely without opting out any important point. Successful communication skills also include active listening abilities which an individual must have.
Effective use of five elements of communication, which include – sender, receiver, message, medium, and feedback helps an employee to deliver a message with clarity. This skill in an employee plays a vital role, to avoid any unnecessary misunderstanding and wastage of time, hence helping to increase productivity.
Employers are looking for personnel who are self-initiators and would confess any problem within their work structure and try to resolve it on their own. This initiating habit helps in creating a good impression in the eyes of the employer.
People with this skill succeed well in their professional as well as personal front. They continuously work on improving themselves by continuously enhancing their skills and knowledge.
Teamwork refers to the potential to know one's role in the team and work harmoniously with the teammates.
Teamwork is an important employability skill that one should have. It is through essential teamwork that a particular team in the organization can do wonders in their assigned task.
An employee should try to manage their limited time in all the tasks in such a way that designated tasks are completed on time without any backlogs. The approach of time management includes one's understanding of how much time it would take to complete any assigned task.
Good time management skill helps an employee to complete a given task in each time period during challenges and difficult schedule.
Ethics signifies an employee's principles. Employers are looking for employees who understand the culture and respect the rules of the company and follow them diligently. Ethics also includes integrity, honesty, trustworthiness, and responsibility which work as the pillars of successful working.
All the above employment skills are highly valued by employers and industry; hence it is highly recommended to develop them. Also, in case if you're just beginning your career, you must take the AMCAT test, after the test you'll receive a feedback report that consists of one's employability scores, job fit in various roles, and tips to improve employability.